Photo credit: King Photography.

By Iris Wiener
IT'S NO SURPRISE TO LEARN THAT BROADWAY'S MOST ARTISTIC PERFORMERS HAVE MULTIPLE TALENTS, BUT HOW MANY OF THEM CAN LIST "DISNEY PRINCESS" AND "ENTREPRENEUR" ON THEIR RESUMES? COURTNEY REED, WHO HAS RIDDEN THE MAGIC CARPET IN BROADWAY'S ALADDIN SINCE ITS FIRST READING IN 2010, RECENTLY CHOSE TO INCORPORATE HER MOXIE AND LOVE FOR FASHION INTO GAGGED CHOKERS, HER PERSONAL TAKE ON THE RESURGING '90S TREND. THE POPULAR BRAND OF HANDCRAFTED CHOKERS FEATURES LINES INSPIRED BY BROADWAY, HOLIDAYS, SEASONS AND, MOST RECENTLY, PRINCESSES.
The impetus for creating Gagged Chokers came from the fact that Reed couldn't find any pieces that appealed to her personality and sense of style. Although she enjoys following fads, Reed prefers not to adhere to all of them, instead dressing for her body type and "in things that make me feel good, while showing off a little bit of me." Thus, she began wearing the chokers that she had created herself, and friends and fans instantly had strong reactions.
"People would come up to me and say, 'Oh, my gosh, where'd you get that?'" remembers Reed. "That's what you always want to hear, especially when you can say, 'I made it!' I don't think it was super intentional, but it started that way, and then people began asking me to make them some. People on my social media [pages] wanted to know when I would sell them."
JASMINE'S WHOLE THING IS THAT SHE DOESN'T REALLY CARE ABOUT THE RICHES AND THE THINGS THAT SHE GREW UP WITH. SHE WANTS TO FIND A TRUE, HONEST PERSON." — COURTNEY REED
Reed and a team of three friends fill all of the orders themselves, in addition to designing the collections and developing strategies for selling the chokers. As for the name for their business, according to their site, "gag" is defined as seeing a choker so perfect for your outfit or personality that it literally leaves you speechless. "We're a social media-based company, so we don't do any advertising, but we all like social so much that it makes it a little bit easier for us," she says.

Above left: Reed in a Gagged choker. Photo credit: Stephanie Sunderland. Above middle: Reed as Jasmine with Adam Jacobs as Aladdin in a scene from Aladdin. Photo credit: Cylla von Tiedemann. Above right: Photo credit: King Photography.
Following her debut on Broadway in Mamma Mia! Reed began turning heads with Lin-Manuel Miranda in In the Heights. Today, she performs at the New Amsterdam Theatre in eight shows each week in Aladdin, inspiring young girls to take control of their own lives and to be themselves. She credits Jasmine as an inspiration for her company, conveying a strong sense of style and positive self-esteem.
"The biggest reward has been hearing from Gagged customers about how the chokers make them feel," Reed says. "We weren't expecting that these products would make people feel confident. When they wore them, they would feel like they could do anything."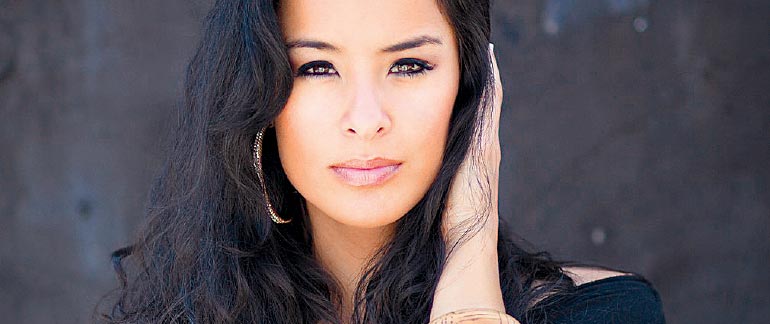 Photo credit: King Photography.
It's perfectly fitting that the alter ego of Jasmine, the first famously feminist princess, has created a line of accessories that is meant to inspire self-assurance, while creating conversation starters. In fact, Jasmine's confidence is Reed's favorite aspect of the character. "That's kind of a tough thing for a girl to be," she says, thoughtfully. "You don't want to be cocky, you want to be self-reliant, and I think that people sometimes get those two mixed up. Jasmine's whole thing is that she doesn't really care about the riches and the things that she grew up with. She wants to find a true, honest person."
No one is more true to herself than Reed, who can often be found on the red carpet with a bold lip and a Gagged Choker, turning heads with the way her fashion complements her originality.
"I do love lashes," she says. "It's not time-consuming. Even if I'm in a pinch, I'll do a tinted moisturizer, cheeks, eye shadow, a top liner, a lash, a lip, and you're good in 15 minutes." Of course, no look is complete without a Gagged Choker. "My favorites were probably in the Courtney Collection, because it holds the most meaning for me," she says of the line that featured Birthday Cake and Pink Autograph chokers. "It was a shout-out to a lot of the people who follow me and know what I love." The Broadway collection also stands out, as gaggedchokers.com features actresses such as Mandy Gonzalez of Hamilton and Kara Lindsay of Wicked donning the Angelica and Popular pieces, respectively. "When I look at the photos, I think of the friends who are modeling them, but they also wear the chokers all the time, even on the red carpet!"
In the future, Reed sees the Gagged brand encompassing more accessories, and it could possibly even add cosmetics and fashion to its oeuvre. "I used to dream about designing my own clothes as a kid, so Gagged could expand into anything," she says excitedly about what's in store for her company. "It's all about just doing what you love." Spoken like a true princess.
Follow Iris on Twitter (@Iris_Wiener) or visit her at iriswiener.com.
Iris Wiener is an entertainment journalist. Her work appears on Playbill.com and in over 15 other publications.