Misty Copeland models Under Armour athletic-wear. Photo credit: Under Armour.

By Jim Merritt
Misty Copeland considers herself an unlikely choice to have made history, breaking ballet's glass ceiling by becoming the first African-American female principal dancer at New York's prestigious American Ballet Theatre.
"I'm black, I have a large chest, I'm muscular," Copeland says in A Ballerina's Tale, the 2015 feature documentary about her rise from late-starting ballet student to fame and fortune as one of dance's rising stars.
Nowadays, Copeland, 34, of New York City, not only celebrates her uniqueness, but she also encourages other women to follow in her footsteps by maintaining—and treasuring—their own individuality.
"We live in a world where people are constantly altering themselves physically and feeling like they have to live up to society's standards of beauty. I believe in the beauty of our uniqueness as humans. We can reach our individual bests, and that's enough," Copeland said in an interview.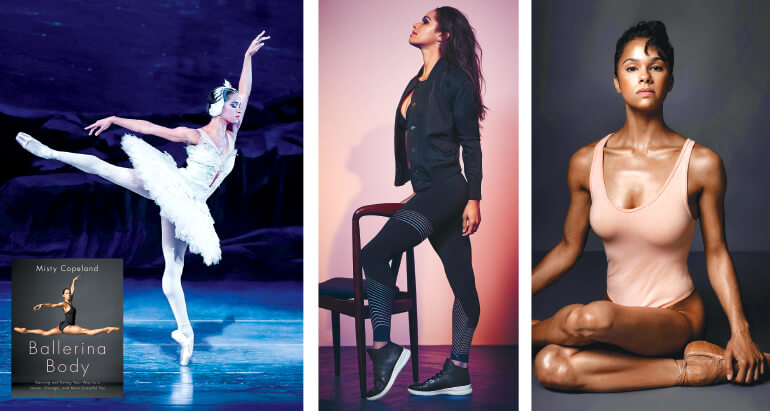 Left: Misty Copeland's Swan Lake solo. Photo credit: QPAC/Darren Thomas. Left Inset: Misty's latest book, Ballerina Body. Photo credit: Henry Leutwyler. Center: Photo credit: Under Armour. Right: Photo credit: Henry Leutwyler.
BALLET'S ROCK STAR
With rock star-worthy international buzz, Copeland has graced magazine covers, been immortalized by Mattel's Misty Copeland Barbie Doll and even "broken" the internet, with an Under Armour sportswear video that went viral with almost 11 million YouTube views.
Since July, she's also been a newlywed. Copeland credits her husband, Olu Evans, a corporate attorney she met through his cousin, the Newark-born film and Empire star Taye Diggs, with helping her regain confidence and treat her body better after surgery for a potentially career-ending lower leg stress fracture.
Her health and fitness book, Ballerina Body: Dancing and Eating Your Way to a Leaner, Stronger, and More Graceful You (Grand Central), comes out this month, offering her unique tips for meal plans, exercise and recovery time.
"Rest is my number one priority," Copeland says. "We are not machines, so if our bodies and our minds don't have time to recuperate, we cannot function, and then we break."
"What I eat is equally as important as my training," Copeland adds. "Making sure that I'm fueling my body to function, of course with some enjoyment, as well as staying hydrated, is the key to the energy and strength I have. I want women to know that they're not alone in their struggles."
TEENAGE SUCCESS
Copeland discovered ballet comparatively late for a future professional, as an escape from her personal struggles at age 13, when she was living with five siblings in a shabby motel room in San Pedro, California. Fortunately, nearby was the local Boys & Girls Club.
"My mother worked a lot, so it [the Boys & Girls Club] was a place for my siblings and me to go. I took a free class there on the basketball court, where a teacher was looking to find more diverse students to bring into her school on scholarship. I was the one chosen."
By age 15, Copeland had won first place in the Music Center Spotlight Awards. More awards, scholarships and professional credits followed, and she joined ABT's Studio Company in 2000, becoming a member of its corps de ballet in 2001. In 2007 she was named the company's second African-American female soloist. After being promoted two years ago to ABT's principal dancer, Copeland broke more ground, making her Broadway debut in the role of Ivy Smith/"Miss Turnstiles" in On the Town.
"I think I am a better ballerina because of Broadway," she says, because "I learned more about what it is to be an actress."
NEXT UP: A DISNEY DEBUT
As her professional career continues to flourish, Copeland hasn't forgotten her past. The Boys & Girls Club remains a favorite charity.
"I think it's important as an artist and public figure to give back," Copeland says.
"Because I didn't come from privilege, I feel that I have so much gratitude and respect for all I have and the art form that got me here, ballet," Copeland says. "I want to keep growing as a person and an artist and continue to bring ballet to people who don't feel they can be a part of it."
Stardom, of course, has its perks. Nowadays her pointe shoes travel in a Louis Vuitton carry-on rolling suitcase, which also contains her Christian Louboutin heels. Her "go-to" restaurants include Cafe Luxembourg and Ed's Chowder House, both on Manhattan's Upper West Side.
And her career is about to take its next major leap. Copeland plays the lead ballerina in Disney's The Nutcracker and the Four Realms, slated for release in 2018 and reportedly costarring Morgan Freeman and Helen Mirren.
"It's beyond my wildest dreams," Copeland says. "To be a part of something connected to Disney, as well as the incredible group of A-list actors, is not a very likely path for a ballerina."
Jim Merritt is Luxury Living's Arts & Culture Correspondent and a frequent contributor to Newsday.