The Scream, signed E. Munch and dated 1895. Photo credit: Sotheby's New York.

By Liza N. Burby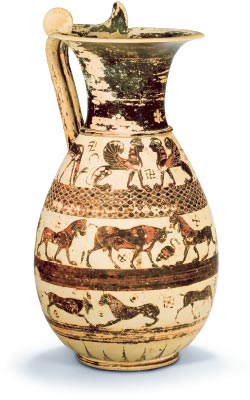 A Corinthian Black-Figured Olpe Late Proto-Corinthian, Circa 640 B.C.
FOR THOSE WITH A PASSION FOR FINE COLLECTIBLES LIKE PORCELAIN, PRINTS, ANTIQUE FURNITURE OR JEWELRY, THE AUCTION HOUSES SOTHEBY'S AND CHRISTIE'S OFFER THE ADVENTURE OF ACQUIRING PRICELESS ITEMS. THANKS TO THE HOUSES' ONLINE OPPORTUNITIES, THIS MAY BE THE MOST ACCESSIBLE TIME IN THEIR CENTURIES-OLD HISTORIES FOR BEGINNERS TO PARTICIPATE IN THE AUCTION EXPERIENCE.
Sotheby's was founded in 1744 in London as an auctioneer of books, rare manuscripts and literary materials, and toward the end of the 19th century, branched out to sell items like paintings, jewelry and furniture. They opened Sotheby's America in 1955. It is currently a publicly listed company.
Christie's, which was founded as an art auction house, is celebrating its 250th anniversary this year. They opened their New York salesroom in 1977. It is privately owned and deals in all areas of fine and decorative arts, jewelry, photographs, collectibles, wine and more.
Both houses sell collections and individual items that have made the news. Hugh Hildesley, vice chairman of Sotheby's Americas, says one of their most famous sales is "The Scream" by the artist Edvard Munch. The painting sold in 2012 for nearly $120 million.
"We sell watches, wines, prints, automobiles," he says. "We've had a good run for many years of selling major international estates, like the Jackie Onassis sale and the property of the Duke and Duchess of Windsor. Plus we get challenged occasionally. We've sold used first-run computers, Arab horses and the T-Rex 'Sue,' which went to the Field Museum [of Natural History] in Chicago for $8 million 20 years ago. It's really fascinating the breadth of what can be sold at auction."
Jonathan Rendell, deputy chairman of Christie's Americas, says that in addition to holding auctions of antiquities, contemporary art and household furniture, they also handle private sales, which have included the "Armada" portrait of Queen Elizabeth I, from the family of Sir Frances Drake to the Royal Museums of Greenwich in London this past July for $13 million.
Earlier this year, Christie's facilitated a $190 million joint purchase between the Louvre Museum in Paris and the Rijksmuseum in Amsterdam of two Rembrandt portraits that belonged to the Rothschild family.
"But not everything we sell is that much," Rendell says. "Collecting is accessible at all points." In fact, Christie's has jewelry and other items priced as low as $1,000 and at Sotheby's, Hildesley says "you can buy amazing items for around $5,000."
NEW COLLECTOR CHANNELS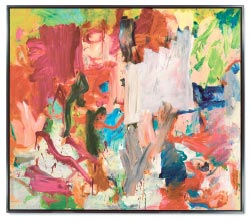 Willem de Kooning (1904-1997) Untitled XXV oil on canvas. Painted in 1977. Photo credits: Christie's images LTD. 2016.
For the person who wants to try collecting, as long as you qualify financially, both Sotheby's and Christie's enable you to buy through various channels, including the traditional live auctions as well as online and by phone. Both christies.com and sothebys.com have tutorials for beginners. Before you start bidding though, Rendell and Hildesley recommend that you attend a live auction first to speak with specialists and learn more about items that may interest you.          
"It's very important to understand what you're buying, why you're paying what you are, and what constitutes quality in a particular work of art," says Hildesley. "Once you've become more experienced, there are many different questions you should ask yourself, like is it authentic and in good condition, and does it have a historical connection that will enhance its value. You have to understand what creates the quality."

COLLECTOR TRAITS
Hildesley adds that you also should be passionate about the item. "The passion of the collector is one of the great elements because they get the satisfaction of possessing something that they really want. If you're buying something just because someone says it's a good thing to have, you won't take the time or the energy to find out if what you're buying is what you really should be."
Rendell suggests starting with what he calls Christie's starter categories: the lower-priced end of the jewelry sales, handbags, watches, wine and prints. "Before you make your first purchase, go to multiple viewings to start getting an eye for the objects and understanding what you have to ask, what you need to look for. Remember to get a condition report on the items that tell you the state of the object so you gain confidence and ask questions of the staff."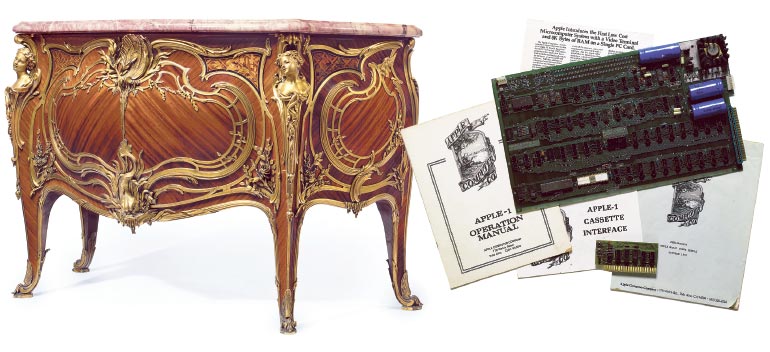 French Ormolu-Mounted Kingwood, Satiné, Ebony and Marquetry-Inlaid Commode a Vantaux by Francois Linke. Photo credit: Christie's images LTD. 2016. Apple I Computer. Photo credit: Christie's images LTD. 2016.
Both houses offer complimentary pre-auction views of collections that are open to the public and are listed in online calendars. "You don't have to bid; just come in and see the exhibition and watch the auction," says Hildesley.
From there, you can move up to bidding in a live auction. Or you can leave a bid on the auction book for that item and a member of the house will bid on your behalf. You can also attend a sale virtually and participate by phone or bid online. In all cases you'll be matched with a staffer who will help you through.
Rendell says that the process can become addictive. "For the vast majority of our collectors this is their hobby, so dealing with buying should be a painless experience," he says. "Nobody needs the stuff we sell, but a lot of people want the stuff we sell. It's great fun."
Liza N. Burby is a freelance writer, editor and author based on Long Island.
SOTHEBY'S MUSEUM NETWORK
Sotheby's recently launched the Museum Network, an online destination that allows viewers to learn more about the collections at leading museums, like the Metropolitan Museum of Art. In addition, Sotheby's Museum Network will also provide original programming conceived and produced by the auction house. The first project is a 13-part series called The Treasures of Chatsworth. Find it at museumnetwork.sothebys.com.