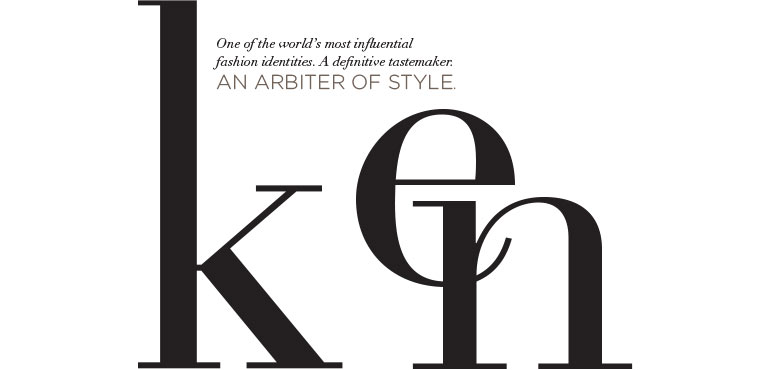 How Neiman Marcus' Ken Downing Gives  Aesthetes a Place to Dream
( And why one can never have too many frills)
By Christina Vercelletto
Ken Downing, Neiman Marcus' senior vice president and fashion director, grew up in art-centric Seattle and now spends his days...well, traveling, mostly. More specifically, shepherding a contingent of fashion editors in the New York office, advising several hundred merchants at corporate headquarters in Dallas and presiding at seemingly every major designer show around the world to cull standout pieces and uncover burgeoning trends. And far more than dictating which colors or silhouettes the buyers should embrace, Downing discerns the brand's message of the season from the many that spring off the runways and clearly conveys it.
Oh, yes. He's also a connoisseur of 21st century furniture and art.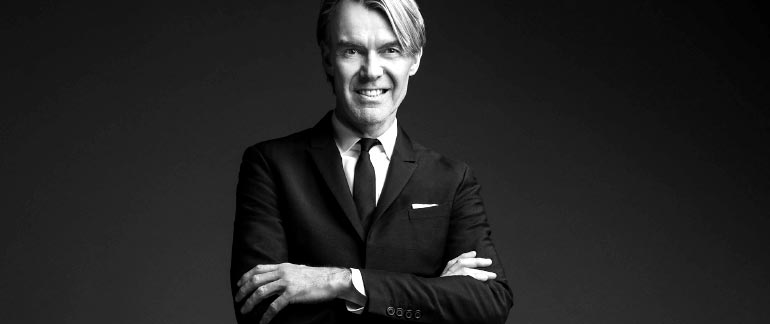 When it comes to style, the guy knows his stuff. That's why Luxury Living tracked him down. We had questions, and he's got answers.
LL: You've been a leader in the fashion industry for decades now. What keeps your job fun and fresh, season after season?
KD: My curious nature and adventurous spirit keep me on the constant journey of the new, the fresh and the fun. I can't imagine a life of boredom. I am very much an adult, but my eyes see the world through the lens of a child, discovering things for the very first time.
So which spring '17 trend is giving you the biggest thrill?
The frill! Ruffles and flounces filled every runway, every collection, trimming everything. I'm also obsessed with the redefined shirt, often trimmed in ruffles or cut with an asymmetrical modernity, many times dipping off the shoulder for when you dare to bare!
How is color fitting into the season's overall vibe?
Spring's palette is a tale of two cities. The first is bold, bright, optimistic color in every hue. Then there are the new neutrals that bring a serene sensuality to the season. I'm crazy for the mix of white, cream and sand, especially when accented with a splash of olive! Olive is a game changer when you move your wardrobe into neutral territory.
What was the first thing you did when planning for spring?
I approach each new season like a fashion designer, considering where fashion has been and anticipating where it's going. I begin planning long before the first model steps onto a runway.
Most of the women you're ultimately dressing aren't built like runway models. How do you keep a focus on serving "real women"?
When it comes to style, one size does not fit all, literally and figuratively. Models make for pretty shows, but I've always been more concerned about putting my women in pretty clothes. Runways keep the dream of fashion alive. I take that dream and make it a reality for women of many sizes. With my keen editorial eye, it's second nature to know what will—and will not—look good on different body types. I spend lots of time with women in dressing rooms. I see all and hear all. My ability to find flattering clothes for different figure types is almost encyclopedic.
What's the most common mistake you see those women making?
I often find that it's not about making fashion mistakes; it's about realizing you have the permission to try new things and ultimately be yourself. We are in an era of eclecticism, when eccentric is celebrated. Be yourself. Dress for yourself. If you feel good, you look good.
Confidence is everything, far more important than any particular item of clothing.
You've said you love interior design nearly as much as fashion. Do you see any similarities between home decor and fashion trends now?
Metallics, especially fabrics injected with gold and warm tones. Parallels between fashion and interiors—and even art, music and food—are everywhere. How we live and how we dress is a cultural response to the world around us. Interiors filled with personality that tell the story of those who live there are far more interesting than barren rooms.
Technology has impacted virtually every area of life. What effect have you seen it have on fashion?
It's changed fashion in an enormous way. Social media has opened up the fashion conversation to millions, making it less rarified and far more attainable. We can share exciting fashion moments and fashion shows within a nano second. The flip side to all of this in-the-moment excitement is fashion fatigue. Customers are tiring of trends and ideas that they can't acquire for six months. The industry's greatest challenge is to use all the energy created by technology to its advantage, instead of to its detriment.
Who are your all-time fashion idols?
Jacqueline Kennedy, David Bowie, Stevie Nicks, Deborah Harry, Iris Apfel, Rihanna, Cate Blanchett…and, certainly, my mother, who has long been a great source of inspiration to me, with her continued fearless attitude to dressing.
What do you see as Neiman Marcus' unique role in defining industry standards?
Stanley Marcus was quoted as saying, "Neiman Marcus was always more than a store. It's a place to dream." I believe that statement is still true today.
Media veteran Christina Vercelletto has held staff positions at several national magazines including Woman's Day. She's appeared on TODAY and The View as a guest numerous times. Her work has been published by Family Circle, South Florida Luxury Guide, Every Day with Rachael Ray, Travel + Leisure, Trip Advisor, The Huffington Post, CanyonRanch.com, Redbook, Cosmopolitan, and more.com.