By Alexandra Karcev

1 | Brighten Up:
Winter's many indulgences (red wine, hot chocolate and caffè lattes) make taste buds happy, but your pearly whites…not-so-much. Enter New York City-based cosmetic dentist Dr. Michael Apa, whom every A-lister sees for flawless selfies. In what amounts to a standard workweek of five days, his Apa White Duo Kit promises whitening comparable to an in-office treatment. "The unique two-step process is simple, effective and perfect for a quick refresh before any special event to give you a brighter and whiter smile on the go," says Apa. The luxe line of oral care products will make your smile instantly brighter—and your bathroom countertop très chic. Apa White Duo from Apa Beauty, $150. Available at apabeauty.com.
2 | Get An Even Tone:
Three minutes. That's all that is needed for the Exfoliating Instant Facial from goop by Juice Beauty to give you ridiculously radiant skin. No appointment or needle necessary. Formulated with certified organic ingredients such as natural alpha and beta hydroxyl acids that gently remove dullness and hydrating vitamin B5, for the perfect non-toxic beauty fix. A legit favorite of goop's Beauty Director Jean Godfrey-June, who advises, "Keep this in your shower, and smooth it in whenever you're already in there, for a serious glow, fewer breakouts, fewer wrinkles and smoother, plumper-looking skin for spring!" Exfoliating Instant Facial from goop by Juice Beauty, $125. Available at goop.com.
3 | Firm & Tighten:
Collagen is the MVP of a youthful complexion. "Microneedling, or collagen induction therapy, works by stimulating new collagen through the skin's natural wound healing response using needles to create microscopic punctures deep into the dermis," explains Jeannette Graf, MD, director of dermatology at OMNI Aesthetic MD, New York City, with a private practice in Great Neck. Effective on fine lines and wrinkles, microneedling can transform acne scars, stretch marks and discoloration, as well, with minimal downtime. Bonus: It also makes the skin more receptive to the absorption of anti-aging formulations. One of Graf's fav pro tools is the Eclipse MicroPen Elite: "The addition of radiofrequency in 2017 enhances the results," she says. But, she cautions, best to leave microneedling to the professionals. "We know how deeply to pierce the skin with minimal trauma and not cause infection." Available at OMNI Aesthetic MD. Photo courtesy of Dr. Jeannette Graf.
4 | Go for the Glow:
Adored by celebs and fashionistas, luxe brand Vita Liberata is the gold standard of sunless tanning. The brand's odorless, organic solution will transform you into a subtly bronzed butterfly. "You'll have a natural sun-kissed glow, and there's no funky smell," explains Lisa Lazzara, founder of Wax Republic, who offers a Vita Liberata spray tan at the Huntington and Roslyn locations in Suffolk and Nassau counties. Lazzara and her glam squad leave no part of the full body tan to chance, airbrushing by hand to provide a custom experience. "We even apply the barrier cream for you," says Lazzara. To prep for a session, exfoliate really well with a body brush, avoid body lotions and oils, and get your nail and waxing treatments done first. You are dry in minutes, so you can slip into that breezy number just in time for your own golden hour. Vita Liberata Professional Spray Tan, $54. Available at Wax Republic.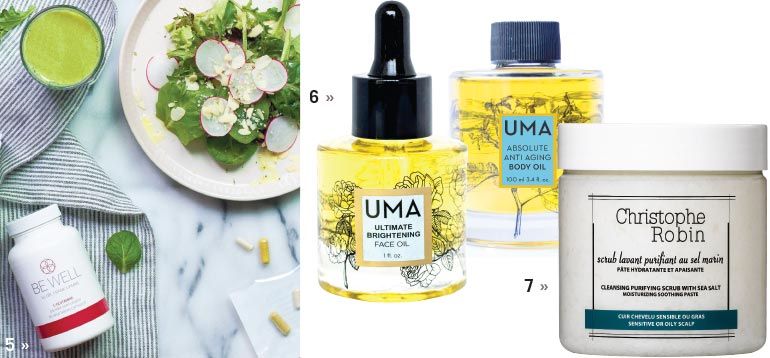 5 | Spring Clean:
Call it a beauty detox from the inside out. The Be Well Cleanse by Dr. Frank Lipman, founder and director of the Eleven Eleven Wellness Center in New York City and author of 10 Reasons You Feel Old and Get Fat, has a fierce following who credit the program with more energy, flatter tummies and healthy-looking skin. The rules are easy to follow: three Cleanse shakes, two packets of supplements and a light lunch and dinner, per day, for two weeks. The goal is to give your system a reboot, so certain items are to be eliminated from your diet. This means no gluten, sugar, dairy, eggs, nightshades, sugar, red meat, alcohol or caffeine (one cup is allowed). While less intense than a traditional cleanse, the 14-day commitment translates to a lighter, happier and more vital you. Be Well Cleanse, $239. Available at bewell.com.
6 | Drink it In:
Cold air, wind and central heating all leave your winter-ravaged skin feeling drier than usual. Begin your recovery with a daily dose of vitamin-rich essential oils, like the ones found in Uma Ultimate Brightening Face Oil. With rejuvenating frankincense oil, prized by Indian royalty, the 100% organic blend restores the moisture balance of your skin, leaving you looking radiant and youthful. For total care, indulge in Uma Absolute Anti-Aging Body Oil, also rich in botanicals, to heal cracked skin, soothe irritation and deeply hydrate. Tired complexions and spirits will get a much-deserved lift with this power duo.Uma Ultimate Brightening Face Oil, $150, and Uma Absolute Anti-Aging Body Oil, $90. Available at spacenk.com.
7 | Treat Your  Tresses:
Hair tends to take a beating over the winter, and hat head is not the worst of it. Scalps can become itchy, flaky and sensitive. The solution: a circulation-boosting massage with Christophe Robin Cleansing Purifying Scrub With Sea Salt, a mix of natural sea salt to exfoliate and sweet almond oil to moisturize. Created by famed French hair colorist Christophe Robin, whose celebrity clientele includes Natalie Portman, Tilda Swinton and Catherine Deneuve, this ideal hair detox treatment is a miracle product for many a die-hard fan. Use in place of your regular shampoo weekly for a healthy and balanced scalp. So fresh, so clean and so style-ready. Christophe Robin Cleansing Purifying Scrub With Sea Salt, $52. Available at Sephora.
Alexandra Karcev is a part-time freelance writer, full-time brand strategist and lifetime style enthusiast who lives and works in Metro New York. Social handles: @alexkarcev