Tory Burch

By Danielle Merollo
It's time to peel off those layers and feel the sun on your skin! And with the light of longer days comes a slew of lighthearted spring collections. Designers clearly had fun this season, infusing clothes and accessories with wit and whimsy, cheerful colors and sunny graphics.
Handbags are especially imaginative this season, with everyone from Dior and Fendi to Burberry and Alice + Olivia offering fanciful creations, many with special embellishments and remarkable detailing. Shoes are equally exciting, with brands as diverse as Prada and Tory Burch making their mark with unique pumps and sandals in pretty colors and surprising textures. Jewelry adds the finishing touch, with colorful stones shining bright at David Yurman and London Jewelers.
Of course, the question my team and I often hear is "How do I wear some of the more eccentric pieces without feeling like a fashion victim?" We recommend pairing one or two fabulous pieces with a classic outfit. Or if you're wearing a head-to-toe print, opt for simple accessories in solid colors. For those less comfortable with bright color, select bold, graphic prints in black and white from the likes of Vince and Max Mara.
There's a bevy of beautiful looks to choose from this season. So shed the heavy weights and dark tones of winter, and lighten up!
Danielle Merollo is the director of Americana Manhasset Personal Shopping Services.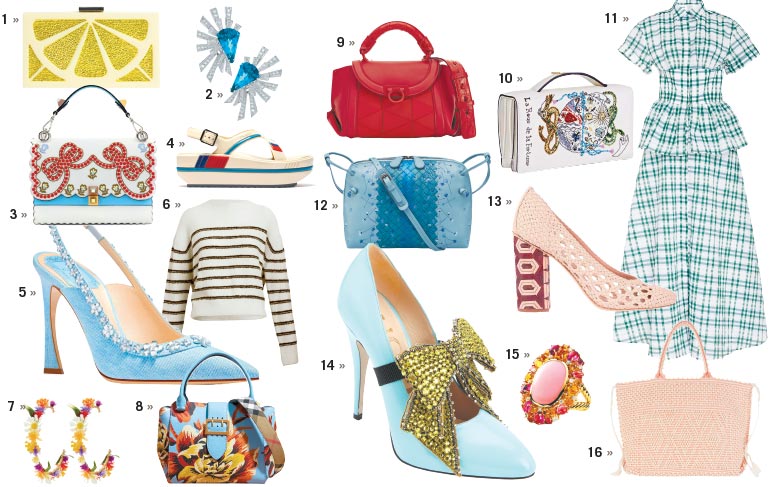 1. Alice + Olivia | Cindy Lemon Clutch in Yellow, $445 2. Hueb | London Jewelers, 18k White Gold, Topaz and Diamond Fan Earrings, $7,070 3. Fendi | Calf Leather Marie Antoinette Mini Kan, $2,600 4. Prada | Price Available Upon Request 5. DIOR | Celestial Blue Denim Slingback, $980 6. VINCE | Lush-Textured, Drop-Shoulder Pullover Knit with Marled Stripes in Lofty Italian Extrafine Merino Wool, $345
7. MERCEDES SALAZAR | Intermix, Flower Hoop Earrings, $148 8. burberry | Medium Buckle Tote in Pale Blue Peony Rose Print Leather, $2,495 9. Salvatore Ferragamo | Calfskin, Grosgrain and Crocodile Soft Sofia Saddle Handbag, $3,400 10. DIOR | Pouchette Lambskin with Tarot Embroideries in Latte/Multi, $2,350 11. Rosie Assoulin | Boogie Woogie Bugle Boy Dress, $2,295 12. Bottega Veneta | Messenger Bag in Air Force Blue Embroidered Nappa, $1,950 13. TORY BURCH | Grove Pump in Dulce de Leche Colorway, $375 14. GUCCI | High Heel Pump in Aquamarine Leather with Crystal Bow Detail, $1,790 15. David Yurman | Mustique Large Flower Ring with Pink Opal, Pink Tourmaline and Diamonds in 18K Gold, $4,500 16. Antonello Tedde | Intermix, Capricciolo Large Tote in Pink, $548