By Christina Burgoyne

WHAT'S THE BEST WAY TO CELEBRATE SPRING? DITCHING THE BLACK BASICS YOU'VE BEEN LAYERING ON ALL WINTER, IN FAVOR OF BOLD, HEAD-TO-TOE COLOR. TANGERINE AND COBALT ARE TWO OF THE SEASON'S BIGGEST COLOR TRENDS, AND YOU'LL FIND THEM SPLASHED ALL OVER DESIGNER DRESSES, SEPARATES, HANDBAGS, SHOES AND EVEN FINE JEWELRY.
When working these jewel tones into your look, there are two basic rules to bear in mind. First, let the bright hue take center stage, and go neutral with your extras. If you're wearing a tangerine dress, try a nude strappy gladiator sandal. If you opt for a cobalt number, carry a black or gray purse. Second, know that these zesty hues draw the eye in, so they can have a figure-flattering effect. If you want to accentuate your legs, try a tangerine trouser with a neutral top. If you'd rather downplay your rear, stick with basic black on the bottom and go brighter on top. These haute colors flatter all complexions, thanks to the cool undertones—consider it your permission to play.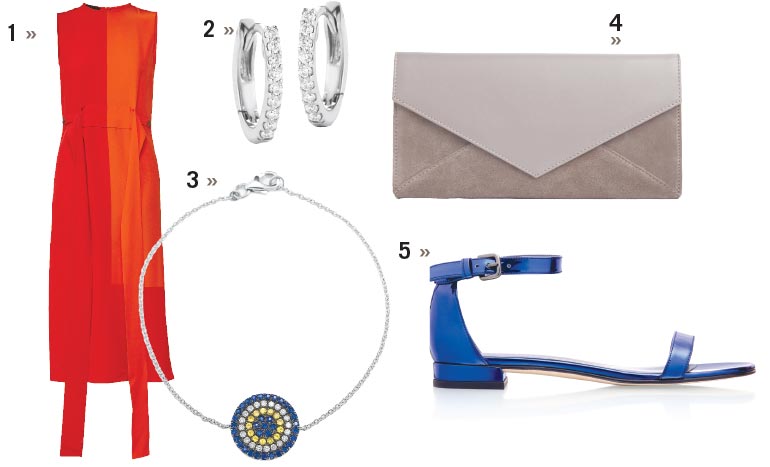 1. Akris. Cinch the waist for a structured look, or leave the ties loose for a carefree, bohemian feel. Photo credit: Akris. 2. Dana Rebecca Designs. Keep the focus on the dress by choosing minimal jewelry. Photo credit: Dana Rebecca Designs. 3. Dana Rebecca Designs. Subtle blue stones reflect off the tangerine for a hint of sparkle. Photo credit: Dana Rebecca Designs. 4. Cuyana. A clay-colored bag perfectly accents a bold palette. Photo credit: Cuyana. 5. Stuart Weitzman. Nudist Sandal. The flat soles are casual enough for a stroll, but the luxe material makes these work for an evening out as well. Photo credit: Stuart Weitzman.

THE KEY TO BREAKING OUT YOUR CRISP WHITES BEFORE MEMORIAL DAY IS CHOOSING TEXTURED MATERIALS THAT FEEL HEAVY ENOUGH TO WEAR EARLY IN THE SEASON. WOVEN KNITS, THICK LINEN AND CREPE ARE ALL GOOD OPTIONS, WHEN IT COMES TO DONNING STARK WHITES.
To avoid a nautical spin, skip navy and olive green accents, freshening up your look by adding in a pop or two of neon. Bright green, citrus and fluorescent pink pieces made a splash on the spring runways, and accessorizing with these shades is a great way to dabble in color without fully committing. Try a low-hanging statement earring, a structured bag or even printed pants with a flash of orange or pink. With any outfit that incorporates white pieces, don't underestimate the importance of what lies beneath. Choose seamless, laser-cut undergarments that will be invisible under your clothes, and keep color in mind here, too. Nude is a safe bet, but here's a pro trick: red also acts as a neutral under white and won't show through.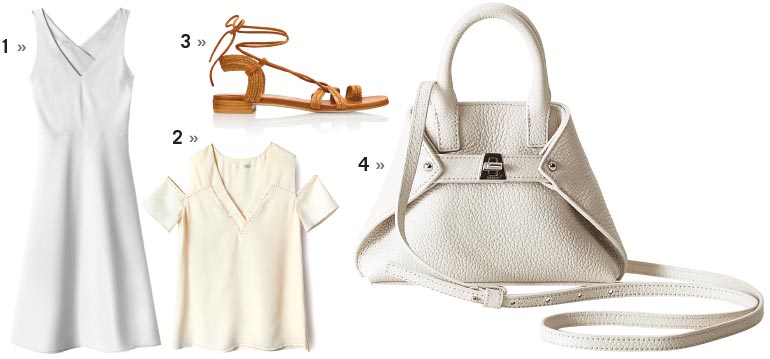 1. Cooper and Ella. A fit-and-flare style in a textured material will transition from spring into summer—add a fitted moto jacket for cooler temps, then bare your shoulders when the weather warms up. Photo credit: Cooper and Ella. 2. Cooper and Ella. A deep V-neck and shoulder cutouts add a hint of mystery to an otherwise conservative top. Photo credit: Cooper and Ella. 3. Stuart Weitzman. A strapy, lace-up sandal in a cognac hue brings an earthy touch to crisp whites. The perfect pedicure pairing—a muted pastel polish. Photo credit: Stuart Weitzman. 4. Akris. Ai Micro Leather Crossbody Bag. Photo credit: Akris.
Christina is a freelance writer who lives in Bethpage and covers fashion, beauty and pop culture.