Antonia Lofaso. All photo credits: Dylan+Jeni.

By Nicole Teitler
Growing up, Antonia Lofaso found that food was ubiquitous. From a family with a zeal for cooking and working side jobs in the industry, being in restaurants came naturally. However, making a career from her passion didn't seem logical. It wasn't until meeting her late husband, Heavy D, that working as a chef became a reality. 
It took 10 years of skill development, including graduation from the French Culinary Institute, before Lofaso became executive chef at SBE's now defunct Foxtail. At the time, Lofaso admits, she didn't know what she was doing and constantly questioned whether people would gravitate towards her opinion on food.
"Opening a restaurant is about a feeling," she says. "There's a reason restaurateurs tend to be some of the most eccentric people you'll meet in your life. We're weird and crazy! There's no real formula to it. You either have it, or you don't."
While approaching a dish, Lofaso contemplates the message she wants to convey. She is a storyteller who uses ingredients rather than words, and plates instead of books.
The menu of Black Market Liquor Bar, located in LA's Studio City, reads like things to crave; BBQ short ribs, spicy Korean chicken wings, meatballs, dill potato chips, deep fried fluffernutter, amongst more.
"I think menus tell a story, and through that story there's an experience….It should be delicious, it should be well executed, and it should be what people crave," says Lofaso.
Lofaso moved to Los Angeles with her family when she was 11 years old, but her Long Island origin has influenced her culinary creations at her LA restaurant, Scopa Italian Roots.
Scopa, an eatery about Italian heritage, serves up dishes such as cold seafood salad, rice ball, meatball hero, stuffed shells and spumoni…each mouthful reminiscent of Lofaso's childhood. She recalls, from a prior work experience, her father once referring to a plate as "cold cuts." At the time she took it offensively.
"In LA, no one knows what cold cuts are; they say 'cured meats' or 'charcuterie,' the fancier end of it," she says."But over time she has come to embrace the terminology for the memory it evokes. The name is what bred the concept [of Scopa]. People will think it's funny, or it's a story that servers get to explain to customers about where I grew up."
Lofaso, like many who grew up in the Long Island suburbs, recalls the Italian-American culture that is a rarity to find elsewhere. The local deli, the Italian restaurant on the corner, the large plates of antipasti that seemingly could feed a small village.
"I still have that memory, that feeling, that smell," she says, to express the uniqueness of where she grew up. "What I miss about Long Island is the sense of community. Everywhere you go and everywhere you live…they're very loyal to one another, you take care of each other."
I THINK MENUS TELL A STORY, AND THROUGH THAT STORY THERE'S AN EXPERIENCE… IT SHOULD BE DELICIOUS, IT SHOULD BE WELL EXECUTED, AND IT SHOULD BE WHAT PEOPLE CRAVE." — ANTONIA LOFASO
Lofaso's success wasn't instant, despite her televised appearances on shows like Cutthroat Kitchen and Top Chef and experience working at Wolfgang Puck's Spago. After her executive chef role at Foxtail ended within the year, she fell into a state of depression, questioning her career path. Lee Hefter, her mentor whom she gained through Wolfgang Puck, encouraged her to keep pushing forward.
"He'd say, 'Antonia, restaurants open, and restaurants close. Get over it.' It's so interesting how everything shifts…my biggest thing is about the recovery. Always. There's more failure, and I've learned more through my failure than my success."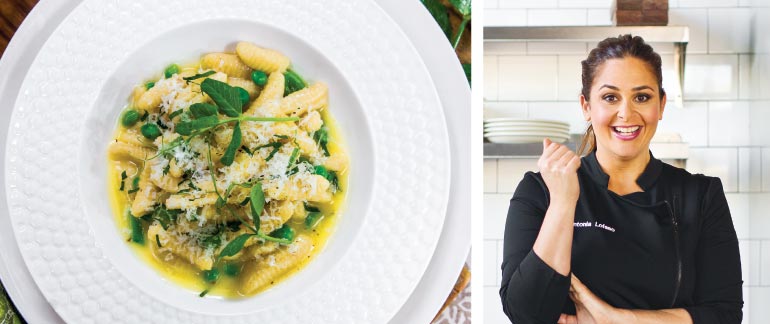 Cavatelli Photo Credit: © 2016 Crown Media United States, LLC / Photo: Alexx Henry Studios, LLC / jeremy lee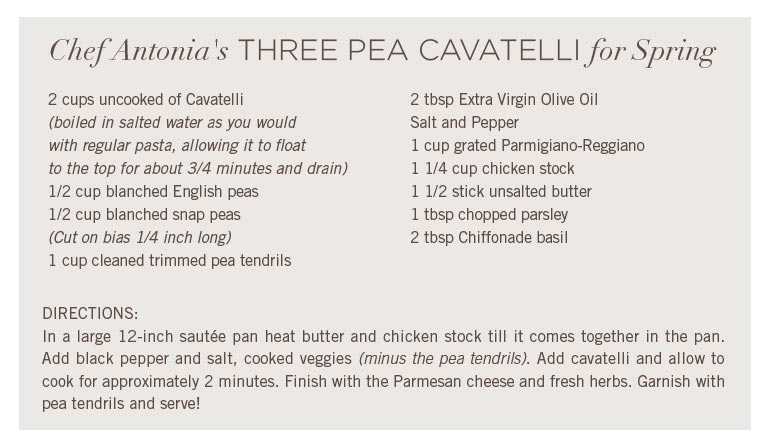 With Lofaso on the rise as a restaurateur, 2017 is the year for her new line of cookware, Chefletics. With a website launch in 2016, Chefletics was inspired by the streets of LA and Lofaso's love for CrossFit to maintain a healthy lifestyle. Thanks to Chefdry, the technology behind the brand, she has created a line resembling athletic wear. "That's what chefs were already buying to wear in the kitchen, so I just made something that was made for chefs."
In a single word, Chef Antonia Lofaso would describe herself as consistent. As a tasteful storyteller, mother and businesswoman.
Nicole Teitler is a freelance writer based in Nassau County. She is a self-proclaimed fitness foodie, exploring the world one dish at a time, and can be found on social media as Nikki On The Daily.