By Arlene Gross
What better way to share comfort food with friends and family than an order of eggs Benedict and a mimosa?
Brunch, a hearty repast existing somewhere between—and often instead of—breakfast and lunch, is a perfect first meal following a late night and rather long week. It's the perfect chance to chill, reflect and refuel for the high-gear days ahead.
Here are a few spots where you can indulge in a relaxing, carefree late morning/midday meal and sample some classic or inventive interpretations of brunch.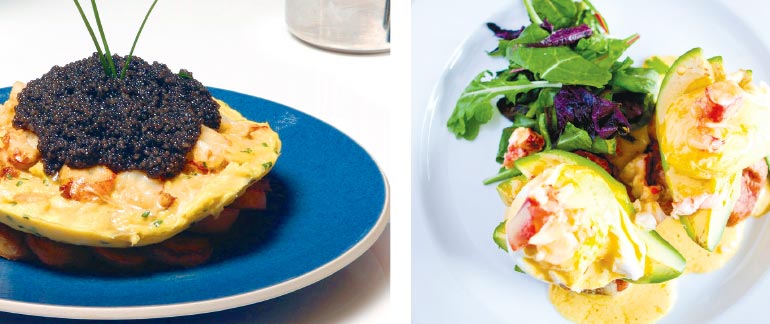 Above, left: Eggs Benedict at Bagatelle. Photo credit: Bagatelle. Above, right: Norma's Zillion Dollar Frittata (with lobster and sevruga caviar). Photo credit: Le Parker Meridien.
NORTH SHORE/NORTH FORK
At Grasso's of Cold Spring Harbor, Sunday brunch begins with a complimentary mimosa, Bellini or Champagne cocktail and is accompanied by a jazz band, notes manager Michael Vilori. Besides standard fare—eggs Benedict, omelets and avocado toast—there are seaworthy appetizers of shrimp cocktail, smoked salmon carpaccio and Prince Edward Island mussels. Standout main courses include peach salad with grilled salmon, crab cake sandwich, chicken paillard, and mushroom and asparagus risotto.
Every day is brunch at Bruce & Son (formerly Bruce's Café & Cheese Emporium) in Greenport, notes owner Scott Bollman.
House specialties include lemon ricotta pancakes; pear salad with fried shallots, dried figs and blue cheese; various pressed sandwiches, including the Grilled Apple, with double cream brie, apple and clover honey; and braised short rib curry on a baguette with horseradish slaw. 
This season, Bruce & Son features Dutch egg with venison prosciutto and pickled winter vegetables; and savory oats with poached egg, Hon shimeji and oyster mushrooms, and pea tendrils.
"We think of ourselves as a progressive menu, where we source locally and things constantly change," says Bollman.
ISLE OF MAN(HATTAN)
Popular brunch dishes at Bagatelle in the West Village include crème fraîche pancakes with seasonal fruits; tuna tartare with avocado salad; eggs Bagatelle with smoked salmon on a croissant with avocado, lobster and hollandaise sauce; homemade gnocchi with truffle sauce and Parmesan; and the spectacular Prestige Seafood Tower with oysters, caviar, king crab, lobster, shrimp, clams and ceviche.
"Some of our springtime signature dishes include our fresh brioche French toast with fresh raspberries; a refreshing heirloom tomato salad with goat cheese, kimchee, lime and shallots; and sliced seasonal fruit plate," says Executive Chef Nicolas Frézal.
Over in the East Village, Prune Restaurant serves up fresh ricotta with raspberries, figs, pine nuts and honey; a triple decker Monte Cristo sandwich served with fried eggs and currants; spaghetti alla carbonara; and a plate of assorted smoked fishes. More traditional items include eggs Benedict; a Dutch-style pancake (one giant pancake); steak and eggs; and huevos rancheros.
Dare to indulge in the decadent chocolate French toast at Norma's in the deluxe midtown Parker Meridien Hotel? Other options include bagels with lox and caviar; flat-as-a-pancake crab cakes with habanero pepper; and a delectable lobster frittata complete with sevruga caviar.
Take the A train heading uptown to experience roots cuisine with a global influence at Red Rooster, the Harlem outpost of renowned chef Marcus Samuelsson. There you can sate your palate with Harlem flatbread, topped with caramelized onion, broccolini, aged cheddar and fried egg; Shakshukatory—baked eggs in spicy tomato stew with fresh ricotta and grits; apple cinnamon French toast; and a side of trucker fries served with mojo sauce.
Arlene Gross is a freelance writer whose work has appeared in various newspapers and magazines.