Photo above: A Maine lobster cooked to order by Bostwick's Clambakes & Catering Co. at a clambake on Montauk beach.
Photo credit: Alana Leland.

By Arlene Gross
What could be better than a scrumptious, carefree clambake on a warm summer's eve? The surf, sand and sea breeze provide a perfect setting for a shellfish-packed soiree, but when the beach is beyond reach, a backyard fete will do just fine.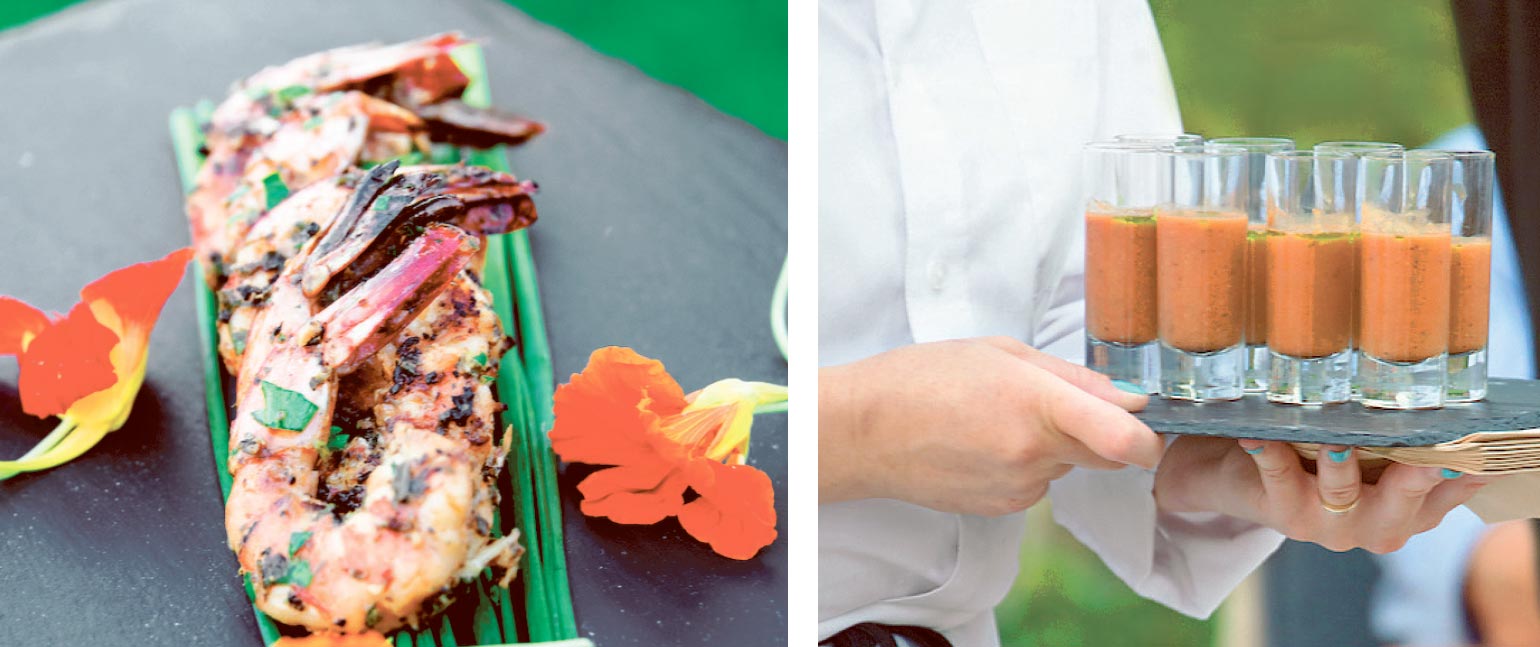 Grilled and Chilled: Grilled shrimp and chilled silky tomato shooter – not gazpacho Photo credits: Daniel Gonzalez Photography.
Parties in the Hamptons and Montauk put on by Bostwick's Clambakes & Catering Co. in East Hampton arrive by trailer, says catering director Doreen Di Sunno.
Whether it's a seascape or landscape setting, Bostwick's will create a customized party for each client, offering anything from casual shindigs where guests sit on blankets and dine at low tables, to elegant affairs with linen-covered tables and floral arrangements. All the provisions are locally caught or sourced and everything is cooked to order on the premises, from lobster, mussels and clams, to corn and potatoes.
While pre-cooked clambakes are available elsewhere, having the food cooked fresh on charcoal grills or bonfires is a unique and memorable experience, one that will truly delight partygoers, says Di Sunno.     
Aside from the fresh food, Bostwick's creates a resplendent atmosphere with a variety of lighting elements including Tiki torches, hurricane lamps and bistro lights.
"It's really pretty spectacular," says Di Sunno.
CLAMBAKES EXTRAORDINAIRE
For customers who want a high end clambake at an East End beach, The Art of Eating in Amagansett serves up everything from a raw bar of clams and oysters, to galvanized buckets of steamers and mussels, to grilled chicken and steak, potatoes, tomatoes, corn, green beans and summer greens—all beautifully presented, says Cheryl Stair, chef and owner.
All the shellfish (clams, mussels, and oysters) are locally sourced, except the lobsters, which come from Nova Scotia. Hosts can also choose an Indian or Moroccan-influenced menu.
To enhance the ambiance, Stair might put down Sisal or Oriental rugs under the tables, or add music and fire dancers. Lighting also places a prominent part in setting the festive mood at an Art of Eating affair. One can choose from copious candlelight to copper torches, ground votives, lanterns or lights strung over the tables. And, "A bonfire is a must," notes Stair, adding that it's for warmth, and cooking s'mores. 
Though a beach party is hard work for the caterers, Stair says seeing the reactions of the partygoers makes it worth the trouble. "The scenery is incredible. Everything's lit. You want to do every party on the beach. There's nothing else like it."
Our hearts are warm, our bellies are full, And we are feeling prime. This was a real nice clambake, And we all had a real good time."
— Rodgers and Hammerstein, "A Real Nice Time," from "Carousel."

A Bostwick's Clambakes & Catering Co. dinner spread on the beach in Montauk featuring local sweet corn, lobsters with warm drawn butter, steamed red creamer potatoes and fresh mixed greens Photo credit: Alana Leland.
AND TO POINTS WEST...
It's build-your-own menu at Royal Catering clambakes, which often include barbeques with burgers and hot dogs, says Tony Luparello, manager of the Massapequa-based caterer.
Whether it's a beach bonfire or backyard fire pit, Royal Catering's classic Long Island clambake is a customized assortment of seafood: clams, mussels, lobsters, and shrimp, served buffet style or as a sit down dinner.
You can choose from a pig roast, Hawaiian or Southern barbeque theme.
"There's every option you can probably think of," says Luparello.  "Everything's fresh. We cook right there. Our staff is phenomenal." Royal Catering offers its services throughout the island, on both north and south shore beaches.
Lobsters, mussel, clams, corn on the cob, potatoes, and chorizo all steam together over hot coals with seaweed and sea water at L.I. Chowda Company clambakes.
"The flavor the seafood gets from this method is absolutely delicious," says, JoAnn DaSilva, who runs the Wantagh-based company with her brother. L.I. Chowda will customize menus for their clients who consist primarily of those who host parties at private residences, private beach clubs and private beachfront homes throughout Nassau County.
Whether or not your guests will actually sing, "This Was A Real Nice Clambake" as they leave your party, they're sure to be sated and, like you, will definitely have a real good time!
Arlene Gross is a freelance writer who lives in Huntington with her husband and son.