The new DB11 in Cinnabar Orange. All photo credits: Aston Martin Lagonda Ltd.


By David Fluhrer
ITS WINGED BADGE, A GLOBAL SYMBOL, HAS ONLY GRACED AN AVERAGE OF 770 NEW CARS A YEAR, EQUIVALENT TO TOYOTA'S OUTPUT FOR 40 MINUTES
CEO BOOSTS PRODUCTION, LIFESTYLE OFFERINGS
And, now, CEO Andy Palmer is boosting production to a maximum of 7,000 cars annually. But he also wants you to share Aston Martin's "lifestyle" of luxury yachts, travel and real estate, with car ownership optional. "We're a luxury brand; we're not just a car company," says Aston spokesman Matthew Clarke of the newer ventures. "They expose our brand to a greater number of people, which is very important." So, with dreams of expansion, this quintessentially British enterprise keeps calm and races on, crafting some of the planet's most desirable performance vehicles, as its vaunted name hurtles into uncharted territory.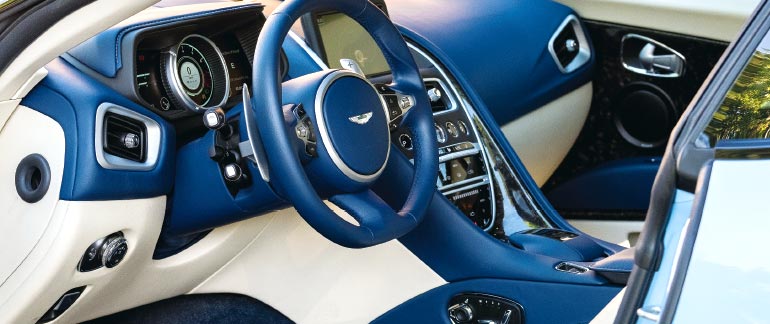 DB11's Shanghai Fashionista designer interior.
CARS STILL FRONT AND CENTER
"It's beauty, styling, exclusivity," says Aston Martin Sales Manager Cyndi Koppelman of Connecticut-based Miller Motorcars. "It's understated elegance."
So coveted are Astons that 90 percent still exist. Rusty specimens can sell into the six figures. Pristine '50s and '60s models routinely change hands in the millions.
Its fantastic machines are a cross between Downton Abbey and Need for Speed..."
"It really created a brand of both luxury and speed, and I think that's transferred quite well [to the newer cars]," says Connecticut Aston expert Kent Bain of Automotive Restorations, Inc. While newer versions retain vintage DNA, they yield not 1 meter to competitors in terms of craftsmanship and performance. 
"Q" BESPOKE CREATES ANY CONFIGURATION
Imagine body lines of liquid aluminum and hyperkinetic paints in "Cinnabar Orange" or "Frosted Glass Blue." Appreciate the redolent leathers that appear to be poured over futuristic seats. And if your imagination and wallet permit, you can summon Aston's "Q" bespoke designers to create any configuration. "'Q' gives us the opportunity to never say no to a client," says Koppelman.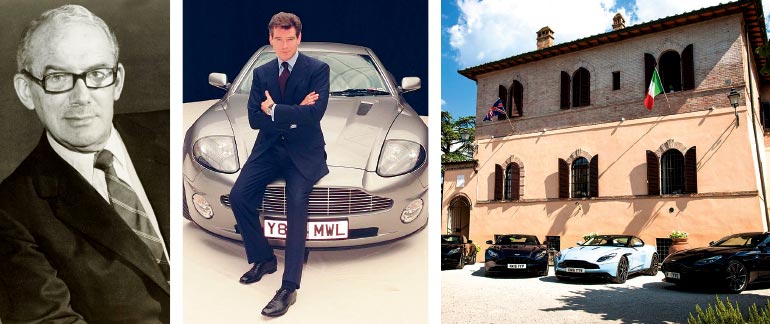 From left to right: Sir David Brown rescued the brand in 1947. Astons appeared in 10 Bond films, including 2002's Die Another Day. Aston's luxury travel includes driving experiences.
There's a new model planned every nine months through 2020, including a crossover and electric, but Astonistas currently drool over the DB11, a 600-horsepower V-12 coupe reaching 200 miles an hour. Aeroblade technology moves air through the body so the car stays planted firmly without a rear spoiler. Exotic design themes range from the sprightly Shanghai Fashionista to the brooding Mysterious Sport.
JAMES BOND TO THE RESCUE
But there's nothing mysterious about why Aston survives. "It's James Bond, man," says marque expert Tom Papadopoulos of Long Island's Autosport Designs. The brand took off after fictional British agent Bond and his gadget-laden DB5 starred in the 1964 film, Goldfinger. Astons were featured in nine more Bond films through 2015. 
Credit also goes to the late Sir David Brown (the "DB" of current models), who rescued the company in 1947 with advanced style and engineering, and a successful racing program. And it didn't hurt when, in 2011, Britain's Prince William and his new bride took a drive in his father's DB6, powered by fuel made from "wine wastage."
OWNERS CLUB BREAKS STEREOTYPE
But if you can't join the royals, you can still hoist a pint with Aston Martin Owners Club members, whose North America East division numbers 400. Last fall, Papadopoulos hosted several dozen for a Long Island foliage tour. "People are very friendly, very open," says Division Chairman Bob Welch. "It breaks the stereotype that these are posh people who are full of themselves."
In the meantime, Aston observers are having a chin-wag as to whether the brand can be extended and still retain its connection to these legendary, hand-built cars. "As long as the brand stays strong," says Papadopoulos, "the heritage will never go away."
David Fluhrer writes Newsday's weekly classic car column and publishes inthedriveway.com, an automotive website.