Fashion meets function. Built-in chests with drawers, pull-out baskets and hampers offer concealed storage while glass shelves and lighting put items on display. All photo credits: California Closets.

By Liza N. Burby
THINK OF A LUXURY CLOSET AS A WALK-IN WITH "BELLS AND WHISTLES" SUCH AS FULL-LENGTH MIRRORS STRATEGICALLY PLACED SO YOU CAN SEE YOUR OUTFIT FROM ALL ANGLES; A MAKEUP TABLE; A DESK FOR YOUR COMPUTER; A CENTER ISLAND WITH A COUNTERTOP; SPECIAL DRAWERS JUST FOR SOCKS; AND SHELVES FOR POCKETBOOKS OR SHOES.
"It's all about luxury behind closed doors, unless you invite someone in to see," says Peggy Fruin, owner of Hampton Design Interiors in Bridgehampton. "It's a lady's sanctuary, her special place. Men tend to get a very small portion of this closet."
Debbie Golden, sales manager for Custom Closets Direct in Freeport, New York, says luxury closets are a popular trend in new construction:
"The bigger the closet, the better, and once you have one you can never go without again. It's no different from having a nice kitchen or bathroom, and it will always help with the resale value."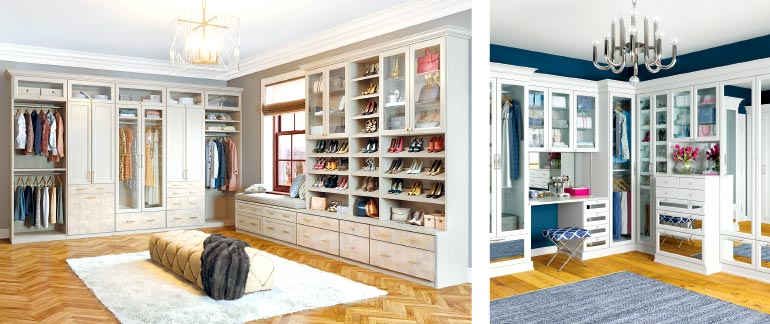 Above left: With its open displays, this system beautifully highlights a dream shoe and handbag collection. It's also chic and timeless with textural finishes, modern door and drawer styles and decorative hardware. Above right: A crisp color palette with a bellissima white finish and glamorous features showcase colorful clothing and accessories. Special decorative hardware and ribbon lighting take it up a notch.
The main goal is organization, so that everything has a place and is readily available. Each closet can be designed specifically to meet your preferences. They can be a made-over reach-in closet or the size of a 10-by-12 room. Fruin says it's common to turn a child's bedroom into a luxury closet when the kids move out. "But even the size is based on the person's specific wants, needs and function," she adds.
According to Debra Russo, assistant design manager of California Closets in Manhasset, on Long Island's legendary Gold Coast, there are new concepts coming out of Europe, and the result is a sleek boutique look with all your clothing and accessories on display. That means arranging the contents of your closet to be the furniture that would otherwise be in the bedroom, says Russo. "It's about finding a home for all your belongings."
Fruin says these closets can be breathtaking, especially when you take into account the new styles in wood, colors, lighting, flooring and accessories.
Wood: Choices have moved away from dark colors to fine woods like a driftwood gray wash or oak. "A trend is two-toning with a mix of textures such as wood grain with glass doors; high-gloss drawers and doors with dark wood partitions; or a dark finish with light-colored shelving," says Russo. Melamine in shades of white is also popular, according to Golden. "Medium white makes the area look bigger and doesn't clash with all the clothing."
Color: There are other ways to add color, says Russo, like the unit backings. Paint the walls or line them with wallpaper. Here you can have fun with the trending colors of aqua blue and turquoise or just keep it subtle.
Lighting: Not only does lighting need to be functional; it can also serve as your décor. LED lighting is now being used for shelves, clothing rods—and even in drawers—and can be controlled by a switch or wireless remote or  be motion-activated. Add chandeliers and wall sconces to create an elegant look.
Flooring: Golden says the trend is for hard wood floors in both dark and light shades, and some are even opting for radiant heat flooring. A colorful area rug can add to the overall effect. 
Center Island: Create more storage by having drawers in the center of the closet. The countertop gives you another place to design with color in mind. "It's also functional, as people use them as a place to lay out their clothes or to place photos, flowers and jewelry," says Russo.
Accessories: There's no limit to accessorizing, from the hardware—which can be brass, bronze or glass—to other details that make the closet unique. Add a bench so you have a place to sit to put on your shoes. Drawers can be created with a velvet tray compartment for jewelry and dividers for rolled belts or to separate bathing suit tops and bottoms. Favorite additions for many closets are the sliding tie rack for men and the valet rods so you can set aside your clothes for the next day.
Ranging from $5,000 to $40,000, custom-built closets aren't limited to the bedroom. Fruin says that customized kitchen pantries are also in vogue, arranged to suit the homeowner's needs. "A baker will want all his or her supplies handy, while entertainers might like to have their champagne glasses or a new set of dishes on display. But just as in the bedroom, a luxury kitchen closet is all about being organized."
Liza N. Burby is an award-winning journalist, author and editor based on Long Island.