The den features a huge television, electric fireplace, bubble fish tank, and a super deep, large sofa. Here, the rich gem tone colors of teal and magenta are used.

HAPPY COLORS, IMPACTFUL FURNISHINGS AND BALTIMORE'S TAKE ON THE BRIGHT SIDE OF INTERIOR DESIGN
By Marie Wolf
RELYING ON 25 YEARS in the interior design business with a focus on luxury residential and commercial dwellings, Port Washington-based Keith Baltimore describes himself as "an anthropologist of sorts" when assembling a design aesthetic for his clients. "My philosophy revolves around knowing everything I can—who lives in the home, their lifestyle, the vibe they wish to project, their needs, how they use the rooms."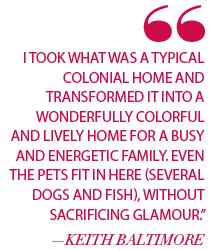 Growing up in New York City helped shaped this designer's creative "vibe." "I'd find endless inspiration and excitement from all that the city has to offer. Riding the subways to museums, art galleries and theatre—the cityscape was my classroom." 
BLACK AND WHITE AMID A RIOT OF COLOR
Personally, Baltimore gravitates toward black for drama and white for glamour. "Both are also the perfect backdrop for layering on colorful accents, textures and luxurious, crystal decorative accessories and lighting." Precisely the elements he incorporated into the redesign of a staid Port Washington home, enlivening it with color and novel design elements. From the entryway to the fitness room—color rules. Bright orange sofas, neon pink area rugs, bold stripes and zebra prints serve as a canvas for what Baltimore interpreted as a "happy home."
THE FOLLOWING IS BALTIMORE'S ROOM-BY-ROOM DESIGN COMMENTARY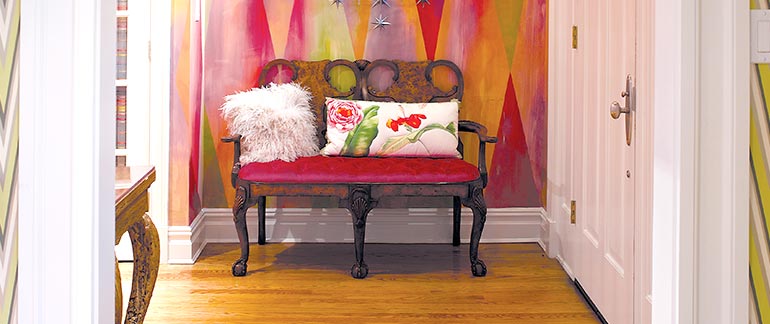 FRONT ENTRY FOYER
I chose a striking, hand-painted harlequin pattern containing the colors I used throughout the house. Separating the rooms is classic molding and architectural features typically found in a colonial style.

LIVING ROOM
A riot of hot pink, fuchsia, and orange against black and white greets the eye. Here, stripes and florals cover pillows. The striped window curtains surround a banquette and luxurious white fur tops the Lucite chairs. Seats covered in a zebra pattern and cabinetry create a strong black and white statement. Eye-catching wall art and objects, like the gold hands above the fireplace and glass globe sculpture are fun conversation pieces.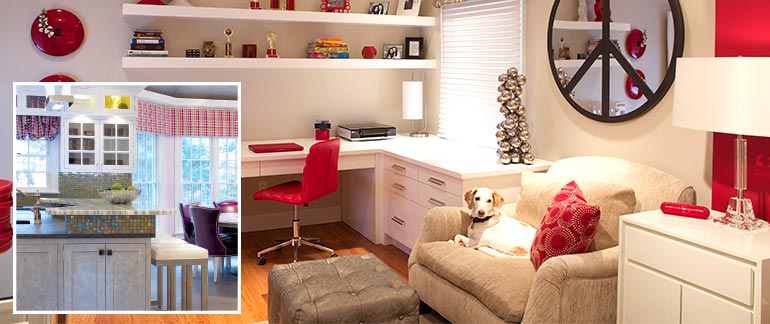 TEEN GIRL'S BEDROOM/STUDY AREA
Designed in taupe and crisp white with bright red accents on the walls and red leather drawer pulls. As she grows, this room will still feel sophisticated with its Zen-like ambiance.
INSET: KITCHEN/DINING ROOMS
Families hang out in their kitchens, and this one has a TV, LED color changing lights and an iridescent tile backsplash. The green and purple color scheme repeats in the dining room, which is often the least used room in a home. So, I placed a TV opposite the broad table where the kids could spread out with their homework.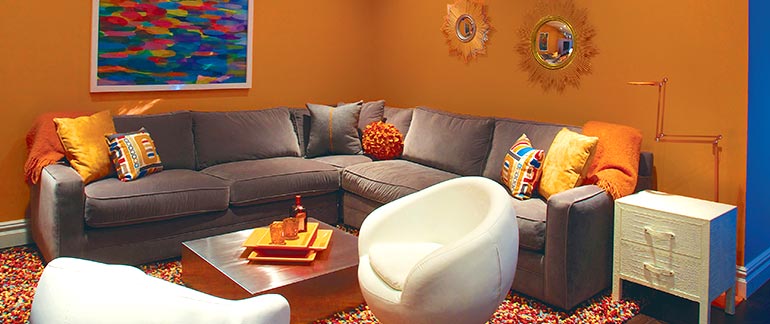 LOWER LEVEL
Strong contrast colors were used in the gym and playroom to brighten and energize the space. I used bold orange and sky periwinkle blue, reminiscent of my memories of the 1964 World's Fair. Fun abounds with a ping-pong table, pinball machine and stacks of games discreetly tucked away.