The Tower House, located in Southampton's luxury estate community of Old Town, offers a private retreat just minutes from the beach. All Photo Credits: Kim Sargent, Sargent Architectural Photography.

By Pamela Brill
THE TOWER HOUSE IN SOUTHAMPTON IS AN OASIS NAMED FOR THE TURRET THAT SERVES AS ITS PRIMARY FOCAL POINT. THIS CUSTOM HOME DESIGNED BY KEAN DEVELOPMENT BOASTS PLENTY OF SPACE AT A STAGGERING 17,400 SQUARE FEET, WITH MODERN-DAY AMENITIES THAT MAKE IT AS WELL-SUITED FOR LAVISH ENTERTAINING AS IT IS FOR EVERYDAY LIVING.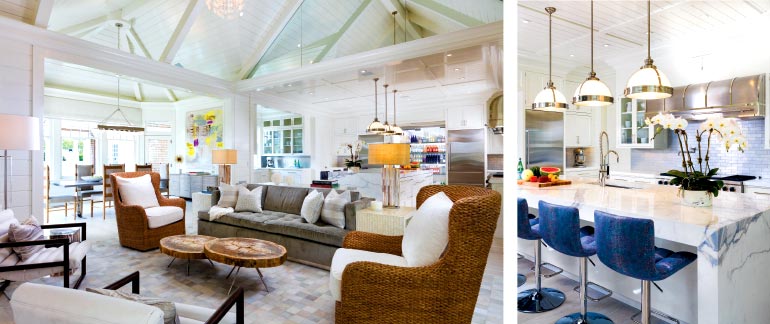 Above, left: The kitchen, great room and breakfast room are seamlessly integrated, creating an easy flow. Above, right: The kitchen has ample space for food prep and storage in a style that can be described as transitional.
"It's a very livable home with a lot of comfort built into it," describes Nancy Patterson, Kean's director of marketing. "It can accommodate plenty of people, but, at the same time, it has an intimate feel to it."
She credits the designers for incorporating sophistication and quality that set it apart from other luxury homes in the area. "Thought has gone into every aspect of the design, from the pull of the cabinet doors, to the size and width of the center island in the kitchen," says Patterson.
PRETTY, YET PRACTICAL
Immediately upon entering Tower House, visitors are greeted by a palette of beige and neutral tones in the vestibule, which empties into the kitchen area, breakfast room and great room. The open floor plan between the adjoining spaces creates a seamless flow, inviting hosts and guests to move about freely before and after meals. The kitchen features stainless steel appliances, commercial-grade oven and stove, and a walk-in porcelain-lined refrigerator and porcelain center island—a style that Patterson describes as "not uber-modern, but more transitional."
"Thought has gone into every aspect of the design, from the pull of the cabinet doors, to the size and width of the center island. — Nancy Patterson; Kean Development, director of marketing
A breakfast room right off the kitchen provides ample space to dine and looks out to the side terrace, while the great room offers the perfect setting for relaxing. A marble surround fireplace is flanked by large windows, and high ceilings with wide plank wainscoting give a contemporary feel.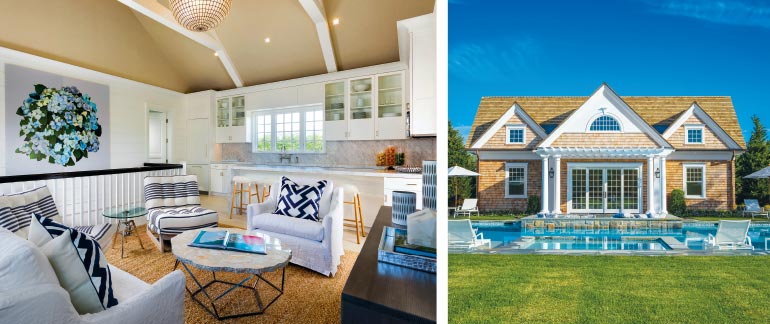 Above, left: The second-story cottage includes a full kitchen, living/dining room and two bedrooms. Above, right: The custom-designed Gunite pool contains a sun shelf where sunbathers can keep cool, with a pool house and sunken fire pit for post-swim relaxation.
Also on the first floor is the junior master, the only bedroom and bath on this level. The generously sized bedroom is outfitted with plenty of windows to maximize natural light, and the bathroom has a steam shower, deep standing tub and nanoglass countertops that Patterson describes as super-strong.
Just off the junior master are the library, billiard room and bar/lounge in a self-contained area. A built-in onyx bar plays center stage and is complemented by high-gloss, textured walls made of crushed shells and an Italian handblown glass chandelier. "This area is a convertible space that could also be used as a master suite or home office," says Patterson of its flexible layout.
UP, UP AND AWAY
Heading upstairs to the second floor, wood paneling and wainscoting adorn the walls and ceiling, as a massive chandelier offset by crown molding illuminates the way. This is where the remainder of the home's bedrooms are situated, awash in a creamy color scheme and featuring numerous mirrors. In the master bedroom suite are custom-built his-and-her closets and a full bath with a decorative chandelier and remote control fireplace.
"It's wonderful if you're taking a bath and don't want to get out of the water to turn it on," notes Patterson. The bathroom windows have screens that pull up from the bottom, providing privacy without sacrificing light.
Off the second floor of the main house is a second-story cottage that can be accessed via a bluestone terrace, nestled atop a three-car garage. Complete with a full kitchen, living/dining room area and two bedrooms, the cottage is ideal for in-laws or overnight guests in need of their own space. It also has the perfect view of the property's four acres bordered by privet hedges. "It's very green and open, which is unusual, to have that much space in Southampton," notes Patterson.
Within that lush space is a 60' x 20' swimming pool with a sun shelf that lets sunbathers partially submerge themselves in the water, a spacious pool house and a sunken fire pit. "Your back is to the pool, and you'll feel like the water is right at your shoulders," says Patterson. Approximately 30 feet away is a pavilion that overlooks the deco turf tennis court whose versatile surface can be used for basketball, bike riding and even dancing.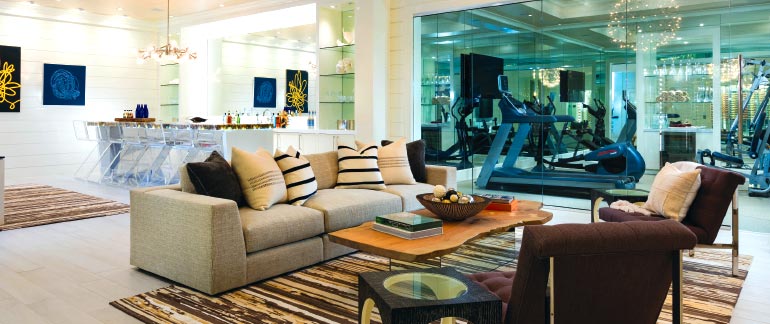 Above: The lower-level entertainment lounge with bar looks onto a home gym, separated by a glass, soundproof wall.
THAT'S ENTERTAINMENT
Speaking of leisure time, the Tower House's lower level includes a bar, ping pong table and sitting area with all-purpose porcelain tile flooring, designed for entertaining guests. Adjacent to this space is a home gym separated by a wall of soundproof glass. "It gives you the illusion of being in a larger room, while offering private workout space," says Patterson. Just down the hall is a home theater with plush seating for 10 and shooting star-style pin illumination that sets the mood with just the right amount of light for viewing. Patterson points out that the sound system can be customized to the homeowner's liking.
Much like Tower House itself, the sky's the limit.
Pamela Brill, a journalist who resides in Northport, frequently writes about home design and other lifestyle trends.