Sherri Lewis Wood founder of the San Francisco-based nonprofit, One Warm Coat.

By Jim Merritt
As a child growing up in a military family and later as a peripatetic working adult, Sherri Lewis Wood lived in 15 different U.S. states, seeing American life in all its rich, diverse—and sometimes cold, isolated and desperate—glory.
"I lived in 32 places by the time I was 40 years old," says Wood, the founder of the San Francisco-based nonprofit, One Warm Coat. Her background as a Girl Scout pledged to "help other people at all times" eventually convinced Wood to make a difference in the lives of fellow Americans she had seen struggling through winter in "remote, cold places" such as Great Falls, Montana, and Grand Forks, North Dakota.

If big cities like New York can hold their own annual coat drives, Wood reasoned, "Every community can do this. That was one of the things that convinced me to do a coat drive all across the country."
The rise of the internet in the 1990s made it easy—and inexpensive —to organize the nationwide coat drive launched from her San Francisco home.
Whether you're a regional charity like Long Island Cares in Hauppauge, or a business partner like Manhattan-based Brooks Brothers, everything you need to start your own campaign can be found online, Wood says.
Even a White House staffer who called about a decade ago received the same instructions: "Our tools are on the website." (Wood did, however, follow up that call with a visit to Washington, D.C, and a White House coat drive photo-op with then President Bush and Mrs. Bush.)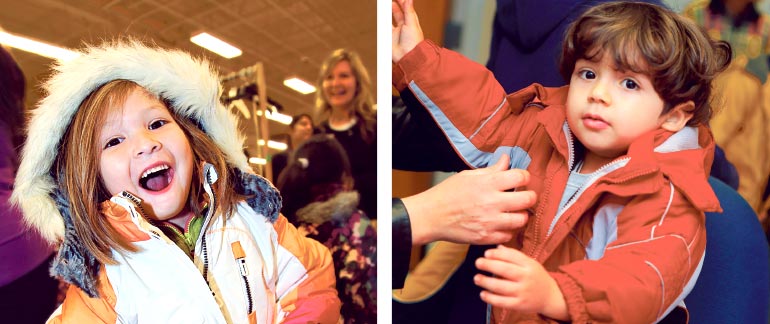 A young boy and girl receive warm coats during a One Warm Coat distribution event. Photo credits: One Warm Coat.
FROM MINKS TO PARKAS
As another winter approaches, One Warm Coat's internet-based model continues to move a massive amount of coats from hall closets to those in need. Last winter, according to Patti Zappa, the nonprofit's director of development and communications, 586,117 warm coats—which can range from donations of minks to parkas to the old-fashioned cloth variety—were collected and distributed from 3,544 coat drives around the nation. This year's goal is to support more than 4,000 coat drives and surpass 700,000 warm coats, Zappa says.
Also by design, it's all done inexpensively, at a cost of about 50 cents per coat, Wood says. "Each drive is hosted by a local person, and the coats stay in the local community," Wood explains.
Participating community organizations such as Long Island Cares, The Harry Chapin Food Bank, depend on One Warm Coat to help local residents survive winter.
"Our people aren't just in need of food," says Long Island Cares Community Events and Food Drive Manager Billy Gonyou. "With the cold months coming on, when we seem to get hit by blizzard after blizzard, these coats come in handy, especially for the homeless population."
On the donation side, One Warm Coat offers an opportunity to take your first charitable step during the holiday season. "So many times people want to do something for others, but they don't know where to begin," Wood says. "Donating one coat—an easy and simple task—can be the beginning of a warming heart."
WOOD'S SOURCE OF INSPIRATION
Wood attended Oregon State University and the Wharton School of Business at University of Pennsylvania before entering a 20-year-career in the trust, employee benefit and legal field. She moved to San Francisco 25 years ago, joining her husband's firm as a placement agent for clients such as the multinational Blackstone Group.
Soon after retiring at age 45, a new interest began to compete with her golf game. Wood happened on a Thanksgiving weekend coat drive at San Francisco's Union Square, organized by a local resident named Lois Pavlov. Inspired by what she had seen on the street, and aided by the growing information superhighway, Wood eventually obtained permission to take the drive national from Pavlov, who died last year.
CELEBRITIES LEND A HAND
"The first 10 years, it was Sherri and her mouse," Wood says of running the operation out of her home. "In the winter months, it was six to eight hours a day, five days a week," she recalls of an experience she describes as "exhilarating but exhausting."
There have also been opportunities for fun, meeting and taking photos with celebrities who joined the crusade, such as the cast of Good Morning America, actress Katie Holmes, Sean Lowe from The Bachelor, and even Paddington Bear.
Five years ago, a CEO and four staff members took over much of the charity's heavy lifting. "As National Founder it was great (and daunting) to create an organization from scratch," says Wood, who continues to serve the organization as chair and national spokesperson. She is confident, however, that "One Warm Coat is in excellent hands."
Nowadays, Wood is warming to another mission in life: promoting organic farming. She bought a 28-acre organic farm in picturesque Capay Valley, California, which will be leased to grow olives, lavender and tomatoes.
At age 63, Wood explains, "It's time for another dream."
Jim Merritt is Luxury Living's Arts & Culture Correspondent and a frequent contributor to Newsday.