Allow space on shelving for personal touches, like objects collected on travels, or functional items, like clocks or lamps.

THERE'S NO BETTER PLACE TO DISPLAY YOUR PRIZED BOOK
COLLECTION AND UNWIND WITH A GOOD READ THAN IN A
CUSTOM HOME STUDY.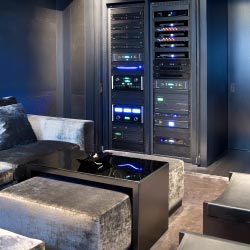 Many homeowners choose to include connected home technology into a library in order to control speakers or televisions.
HAVING A HOME LIBRARY PROVIDES A PLACE OF SANCTUARY, ONE WHERE YOU CAN ESCAPE THE OUTSIDE CHAOS AND IMMERSE YOURSELF IN THINGS THAT PUT YOU AT EASE, WHETHER THAT INCLUDES GRIPPING NOVELS, LUXE FURNITURE AND DECOR, OR ART COLLECTED ON YOUR TRAVELS.
Today, home libraries are not only used for displaying books, but also for entertaining guests and consuming media, so before breaking ground on your new space it is important to consider the size, aesthetic, and special features you would like to incorporate. After all, according to Jessica Shaw, director of interior design for The Turett Collaborative in Manhattan, "All the objects and elements of a home library are a conscious selection and therefore a reflection of the things the owner cares for."
ASSESS THE SIZE OF YOUR COLLECTION
When working with an architect to design your home library, the first step is to determine how much shelving you will need. "It's important to understand not only the size of your collection of books, but also its potential for growth," says Shaw. "This will help you figure out how many linear feet of shelving are required. When planning the shelving, Shaw also suggests taking into account any other elements that will occupy space on the walls, such as a television, hanging art, or a fireplace.
CONSIDER THE DIMENSIONS
According to Adam J. Wanaselja, architect for Long Island City's DH Murray Architecture, home libraries tend to be on the scale of the living room or dining room, ranging anywhere from 15'x15' to 20'x20'. "But that doesn't exclude the ability to provide a quiet, comfortable space with wall storage on a smaller scale," he explains. Shaw adds that simple library shelving can be installed on a 10-foot wall if a homeowner desires. Regardless of the size of the room, three to four-foot long shelves are ideal, and each shelf should be approximately nine to 14 inches deep to accommodate books of various sizes.
CHOOSE A DESIGN AESTHETIC
A popular trend in library design at the moment is creating a modern-looking room using traditional materials. "We recently completed a project where all the millwork for the bookshelves and cabinetry was dark-stained oak wood," says Shaw. "All exposed wall surfaces and door surfaces were paneled with leather and framed with oil-rubbed bronze inlays, and we used smoked mirror on the walls of the wet bar."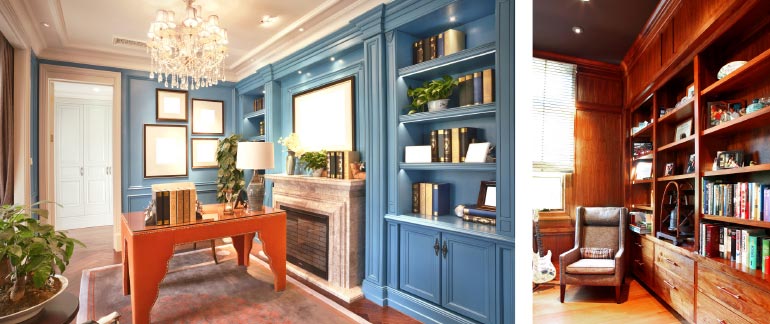 Incorporate personal touches, like family photos or treasures, to make your home library a space that evokes positive memories. All photo credits: The Turett Collaborative.
INCORPORATE SMART HOME TECHNOLOGY
"In general, homes are smarter and more integrated than ever before," says Wanaselja. The library is no exception. Wanaselja explains that in many cases modern technology has actually rendered book collections smaller as digital resources and e-readers become more popular. "As people move from print to digital resources for consuming information, the need for extensive traditional book shelving in a home library has become less relevant." Therefore, many homeowners choose to invest more in technology—such as programmed lighting and shades or Sonos sound systems—than in custom shelving.
CS, Special to Newsday
---
PERSONALIZE YOUR LIBRARY LIKE A PRO
These services make it easier than ever to get professional help decorating your space without ever leaving your house.
Homepolish.com: This smart site connects users with top designers. You can purchase time by the hour for in-person or by-video interior services. Your designer can help arrange pieces you already own, or select new ones to add to your space.
Modsy.com: Once you register for an account and fill out a style profile, you'll be guided through the process of taking smartphone photos so that Modsy can create a 3D rendering of your space. As your designer helps you choose objects for the room, you'll be able to place them into the 360-degree rendering to see how they would look in real life.
Havenly.com: This design service offers an "accessories only" package for assistance styling a bookshelf or placing your gallery wall in just the right position.