Paradise Found: A light-filled solarium design with Palladian windows, one of the unique outbuilding offerings by Garden Sheds. Photo credit: Gardensheds.com.

by Arlene Gross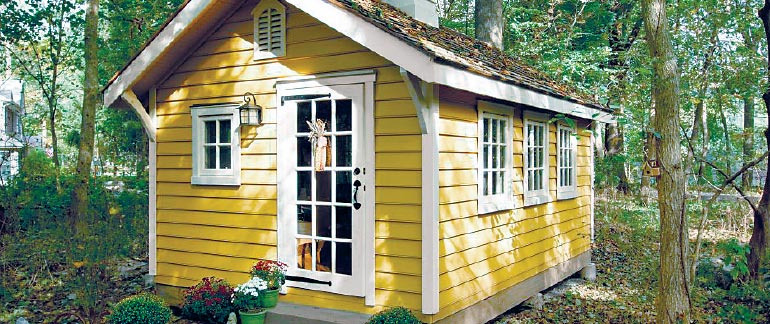 SOMETIMES A GAL JUST NEEDS HER OWN SPACE,
A PRIVATE RETREAT TO CREATE, PAINT, GARDEN, READ, CONTEMPLATE—OR SIMPLY GET AWAY FROM IT ALL. NOW YOU CAN DISAPPEAR INTO A WORLD CENTERED ON YOUR OWN INTERESTS, A PERSONAL SPACE THAT'S MERELY SECONDS FROM YOUR BACK DOOR.
The "she shed," as these buildings are known, can be a prefab tool shed that has been rehabilitated or one that's designed and built precisely to your specifications.
"HERSTORY" OF SHE SHEDS
For many women, she sheds are a practical way to extend their living area, affordably and comfortably. These days, the trend is turning to outbuildings to accommodate the extra space, says Erika Kotite, author of She Sheds: A Room of Your Own (Cold Springs Press, February 2017).
"It's a poignant, deeply rooted urge and wish for most women to have a place of their own."  — Martha Rogers
Though they've been around for some time, she sheds have only recently—in the last three or four years—been given this moniker, says Kotite. 
Adding or enlarging windows and upgrading doors can turn a high-ceilinged tool shed into a highly usable and aesthetically pleasing space.
Gardening or potting is the number one raison d'être for she sheds, followed by drawing, painting, photography and other art media, Kotite observes. A shed can serve as a sewing room, a writer's retreat or simply a place to hang out, read, relax and catch a few winks. Use, size and expense run the gamut, from utilitarian to ultra-extravagant.
"I think there's something for every budget. It's a matter of what kind of space you have in your backyard, what kind of needs and lifestyle you have," notes Kotite.
Donna Pirello, sales and design consultant for Long Island Shed Builders of St. James, explains that she sheds are distinguishable from regular sheds by their roof lines, specific colors and purpose. Because women tend to multitask, adds Pirello, she sheds "seem to be very soft yet multipurpose."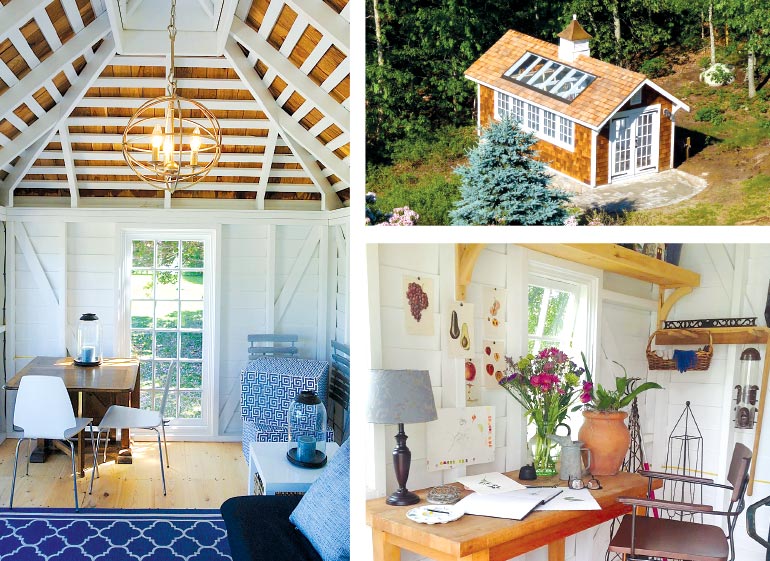 Left photo: Williamsburg pool house interior illustrates the distinctive Garden Sheds cottage frame look along with a cedar shingle roof and wide plank cypress floor boards. Photo credit: Gardensheds.com. Bottom right photo: A perfect solution to working from home but not in your home, designed by Garden Sheds, Inc. Photo credit: Andy Smith. Top right photo: The quiet space of this custom Garden Sheds French Normandy design serves as an inspiration for the owner, a botanical illustrator. Photo credit: Susan Mintun.
DESIGNING A SPACE
The first step in designing a she shed is determining what's going to best serve a client's needs, according to Ken Smith, owner and designer of New Jersey-based Garden Sheds.
The initial hurdles are size and seasonality. Sheds can range from 4 x 6 to 15 x 40 feet, depending on their use and lot size, as well as zoning setbacks.
If the shed will be used year round, insulation and plumbing will be required. Electricity is usually standard for any season.
Use determines design, Smith points out. "If the building's going to be used for art projects, then you want to be mindful of the light orientation and natural light." 
Context is always an important consideration, says Smith. An outbuilding should complement the house and the property—it should look neither too diminutive nor too large for its surroundings.
With exposed wood framing, Smith's designs tend to have a historic look and a quaint, cottage-like feel.
"The bones and the skeleton of the building are exposed, and it's very attractive and charming," he says.
Peak seasons for shed design and construction are spring and fall, and they take between 10 and 14 weeks to complete.
THE STORAGE SHED
In need of extra space to store storm windows and screens for her historic Montauk home, Martha Rogers, Ph.D., realized she could accomplish that "and also add a darling focal point for our wonderful garden by getting one of these sheds."
Though she doesn't actually spend time in her Garden Sheds retreat, Rogers says she loves peeking in and wishes she could play in it.
"My husband," she says, referring to TV personality Dick Cavett, "when he first saw the shed, wanted it for himself and would have co-opted it. It's so cute, you can't believe it!"
Though a relatively new social phenomenon, she sheds are a return to another time, Kotite maintains, before open floor plans were popular and women had a place in their homes where they could close a door and be alone.
"It's a poignant, deeply rooted urge and wish for most women to have a place of their own."
Whether you want to sculpt, pot plants, sip tea, do yoga or have a fine-looking storage space to admire, a she shed may be your perfect destination.
Arlene Gross is a freelance writer who lives in Huntington with her husband and son.