Omaze co-founders Ryan Cummins and Matt Pohlson in New York City. Photo credit: Eileen Kotak.

Omaze co-founders MATT POHLSON and  RYAN CUMMINS are making dreams come true and reinventing philanthropy for the next generation
By Melissa Argueta
$10 AND A DREAM
Imagine strolling down the red carpet as George Clooney's date for his new movie premiere, biking with Bono through Central Park or riding shotgun on Arnold Schwarzenegger's personal M47 Patton tank. For a mere $10 donation, these are just some of the extraordinary experiences that have become realities for a few lucky contest winners. It's all thanks to Matt Pohlson and Ryan Cummins, co-founders of Omaze, a California-based company that's revolutionizing the philanthropic sector and making fundraising fun.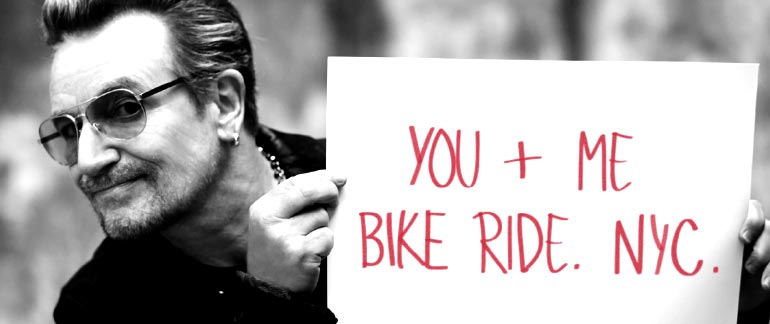 Above: Bono is seen offering fans the chance to ride bikes with him through Central Park to benefit (RED).
CHANGE MAKERS
Meeting Pohlson and Cummins in New York City on a cold winter morning is a dream experience in itself. After all, these are the men who have made it possible for fans to bond over beer in Boston with Tom Brady, Ben Affleck and Matt Damon or to be immortalized as an extra in Star Wars: The Force Awakens, while raising money for charitable organizations. Inspiring people to make a positive impact in the world is something Omaze's founders appear to have been destined to do. Raised in California, Pohlson, who dreamed of being an NBA player, considered going into politics and public service. "My dad was in the seminary. He's a criminal defense attorney, so he was always helping people who were very vulnerable," he explains.
A Michigan native, Cummins grew up with ambitions of becoming a neurosurgeon. "I was always interested in people and people's stories. My mom, prior to meeting my dad, was in a convent, and she was always very charitable, so I got a lot of that from her," he says.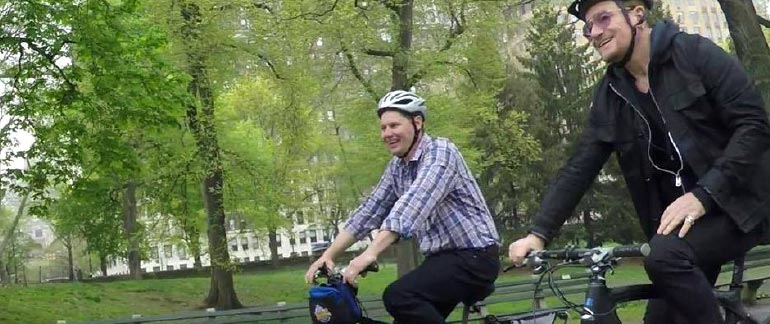 Above: Omaze contest winner Rob C. from Milton, VT, with Bono biking through Central Park to benefit (RED). Photo credits: Omaze.
MAGIC MOMENT
Pohlson and Cummins first met at a party while undergrads at Stanford University and have been best friends ever since. One night in 2011, they attended a fundraiser for the Boys & Girls Club of America. On the auction block was their ultimate dream experience—to shoot hoops with Magic Johnson and go to an LA Lakers game. The two die-hard basketball fans watched auction bids skyrocket to $1,500. "There was a guy who won it who we knew wasn't a Magic Johnson fan. So that was a little bit of salt on the wound," Cummins recalls.
While they were driving home from the auction, the idea for Omaze was born. "We said to each other, What if they made this available to everyone for 10 bucks? You would raise so much more money, so much more awareness, open up a whole new donor base, and, then, guys like us would have a chance," Pohlson says.
Part of our roadmap, part of our vision has always been to do these things on a local level and empower people..." — Matt Pohlson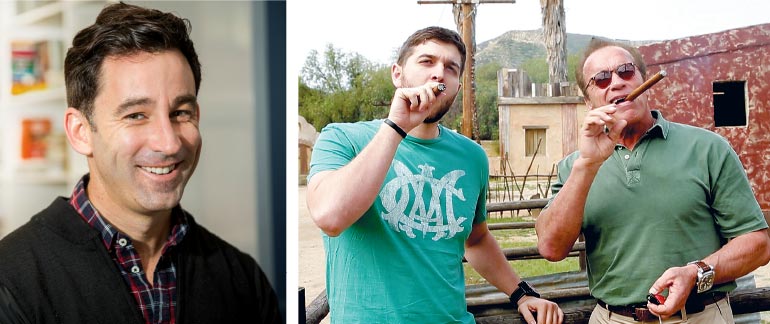 Above left: Matt Pohlson co-founder of Omaze. Photo credit: Eileen Kotak. Above right: Alex M. from Dallas, TX, won the chance to spend the day with Arnold Schwarzenegger. They smoked cigars, crushed things in a tank and made an action movie trailer together to benefit After-School All-Stars. Photo credit: Omaze.
START ME UP
After moving to Los Angeles and receiving their MBAs, Pohlson and Cummins began working in the entertainment industry, producing films, music videos and commercials. That led them to work on a major cause campaign, the 10th anniversary concert for the Clinton Foundation dubbed "A Decade of Difference."
That project became the catalyst for Omaze. "There's something that's very connecting and inspiring for all human beings when you have a very good story that just sort of bridges gaps. And, ultimately, I think those stories that we got most passionate about were the ones that were related to some sort of social impact," Cummins says.
SIMPLY OMAZING
The entrepreneurs set out to creatively harness technology to democratize traditional auction-giving, offering anyone the chance to enter a contest for as little as $10. In 2012, Omaze unveiled its first campaign using WordPress. The prize was a backstage experience on the TV show Cupcake Wars, which raised $700. 
It wasn't long before word spread about Omaze contests on social media. The company went from running small, thousand-dollar efforts to campaigns that raised $20,000 with the TV show Parks and Recreation and then $100,000 with Linkin Park. The first Breaking Bad contest raised $300,000, and a second campaign for the TV show put Omaze on the map, netting $1.7 million. Since Omaze's inception, the Star Wars contest has earned the most, with a record $4.26 million in donations.
A CAUSE REVOLUTION
Omaze is built on an 80 percent nonprofit and 20 percent profit model. Cummins emphasizes that, over the next 10 years, charities and nonprofit sectors are going to have a harder time raising monies. "There needs to be a private sector enterprise that really gives them an opportunity to continually get resources and access to funds, and that's why we built Omaze," he says.
Since that first campaign, Omaze has impacted more than 200 charities and received donations from 170-plus  countries. Celebrities approach the cause marketplace if they want to raise funds to benefit a charity of their choice. Then the Omaze team goes to work, creating one-of-a-kind experiences. "Most of the experiences that we do will feature a celebrity that has an engaged following and really has influence," Cummins adds.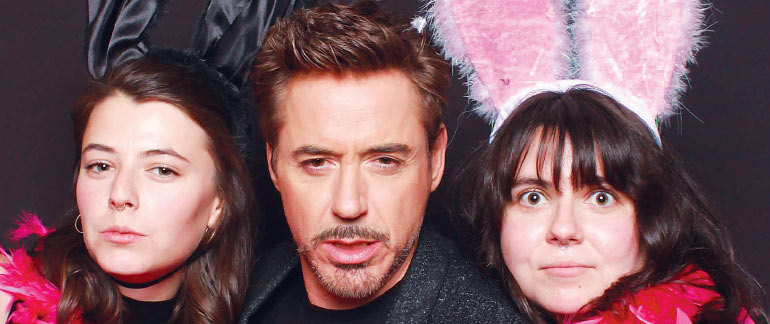 Amelia B. from Cottage Grove, WI and her sister, Rebecca (right), won the chance to have pizza with Robert Downey Jr. They also attended his exclusive screening of Marvel's Captain America: Civil War and cheered him on in the audience at The Tonight Show Starring Jimmy Fallon.
TRANSFORMING LIVES
Pohlson states that U2's lead singer Bono has done four experiences with Omaze in support of (RED). "Bono is the quintessential example of why we started Omaze. No one harnesses their influence for good more effectively, more strategically, more passionately than Bono does. But he also likes to have fun with it."
Through the power of storytelling and technology, Omaze has made a significant impact on the charities they serve. "There was a small UK charity that Simon Pegg selected, when we did our first Star Trek experience, called Time Is Precious," Cummins says. "In that single campaign, in just six weeks, we funded the charity for an entire year. To be able to do something like that is remarkable when it's connected at such a personal level for these folks."
Neil and Nicky Halford, co-founders of the charity, spent four years in and out of the hospital taking care of their son, Ben, who eventually lost his battle with brain cancer. The Halfords are grateful to Omaze and Simon Pegg for the much-needed funds they have received for the purchase of equipment and to refurbish areas at local hospitals. "Everyone volunteers for our charity, including me and my wife," explains Neil Halford. "No one gets paid; we just all do it in our spare time. So when Omaze came along, it was just unbelievable. It would take us a year to earn that kind of money."
POWER TO THE PEOPLE
Looking toward the future, Pohlson hopes to expand the Omaze platform to serve local as well as international charities. Omaze recently launched an online store at its website, offering merchandise from past campaigns, with proceeds supporting various charitable organizations. "Part of our roadmap, part of our vision has always been to do these things on a local level and empower people at a local level," he says.
Cummins adds, "I'm really excited to expand Omaze to really revitalize cities, to convene nonprofits, the private sector, the public sector and really increase civic engagement around all these campaigns. There's an opportunity to really spark life into people that kicks off with fun, but then hits at a much more fundamental level that improves everyone's lives."
Melissa Argueta is a writer from Huntington who is a pop culture, art and film enthusiast with a penchant for food snobbery.