2016 Luxury Living Media Kit
Luxury Living is Long Island's premier lifestyle publication serving the needs of the area's most affluent residents. Published quarterly by Newsday, Long Island's leading content provider, Luxury Living celebrates the life well-lived with coverage of high-end homes and gardens, dining and entertainment, art and culture, travel and automotive, and retail, specifically fashion, beauty, jewelry and accessories.
THE LUXURY LIVING AUDIENCE IS EDUCATED, AFFLUENT AND ACQUISITIVE
EDUCATED
Two-thirds are college educated; 41% with advanced degrees
AFFLUENT
100% have a median household income of $150,000+
96% own a home
Median market value for their homes is close to half a million dollars
ACQUISITIVE
Luxury Living readers index higher for
Investments over $500,000
Household income above $250,000
Purchase at upscale retailers
IN THE LAST YEAR ALONE, LUXURY LIVING LIFESTYLE CONSUMERS SPENT:
$1.3 billion on home improvements and furnishings
$1.2 billion on luxury automotive
$1 billion on luxury travel
$85 million at upscale department stores
$71 million on designer fashion and apparel
$20 million on fine jewelry and watches
$16 million on prestige beauty and fragrance
$9 million on dining out
Source: Scarborough NY 2015 (Release 2) Base: Nassau Suffolk Adults with HHI $150,000+. Index higher than NYDMA Adults.
LUXURY LIVING IS LONG ISLAND'S PREMIER UP MARKET MAGAZINE
37 OF THE NATION'S WEALTHIEST ZIP CODES ARE LOCATED ON LONG ISLAND
Luxury Living caters to Long Island's upscale population of which, according to Forbes Magazine, Nassau and Suffolk counties are among the top 25 richest counties in America. Additionally, Nassau County is the third richest county per capita in New York State, and the 30th richest in the nation.
Long Island and the five boroughs represent 7 counties of the 29 in the NY DMA
Nassau and Suffolk are the largest and most affluent counties

In Top 25 in America
Nassau Third Richest in NY State
2.9 Million Population
Close to a Million Households
LUXURY LIVING AUDIENCE WITH HHI $250K+ OWN MORE, DO MORE, SPEND MORE
Luxury Living's high-income audience is beyond compare! When ranked against the average Long Island adult, Luxury Living offers an audience with a greater propensity toward:
HIGH END HOME OWNERSHIP
Median Home Value Over $700K
67% greater than the average Long Island Adult
HIGH NET WORTH
Median Value of Investments Over $350K
42% greater likelihood
Own Mutual Funds
80% greater
Own Stocks or Stock Options
66% greater
Own a second home
67% greater
UPSCALE SHOPPERS
Shop Upscale Departments Stores
95% or nearly 2X greater
WELL-TRAVELED
Took 3+ domestic trips in last year
96% or nearly 2x greater
Took 3+ trips outside US
50% greater
Have been to Europe in last 3 years
88% greater
TOTAL DISTRIBUTION: 115,000
AFFLUENT TARGETED (HH INCOME>$150K) SUBSCRIBERS: 102,000 COPIES
TARGETED DISTRIBUTION - SINGLE/MULTIPLE LOCATIONS: 12,000 COPIES
ADVERTISER/EVENT DISTRIBUTION: 1,000 COPIES
NASSAU
ALBERTSON
ATLANTIC BEACH
BELLMORE
EAST NORWICH
GARDEN CITY
GLEN HEAD
GREAT NECK
GREAT NECK VILLAGE
GREENVALE
HEWLETT
JERICHO
LAWRENCE
LOCUST VALLEY
MALVERNE
MANHASSET
MASSAPEQUA
MASSAPEQUA PARK
MERRICK
MILL NECK
NEW HYDE PARK
OLD BETHPAGE
OLD WESTBURY
OYSTER BAY
PLAINVIEW
POINT LOOKOUT
PORT WASHINGTON
ROCKVILLE CENTRE
ROSLYN
ROSLYN HEIGHTS
SEA CLIFF
SYOSSET
WILLISTON PARK
WOODBURY
WOODMERE
SUFFOLK
AMAGANSETT
BABYLON
BRIGHTWATERS
CENTERPORT
COLD SPRING HARBOR
COMMACK
DIX HILLS
EAST HAMPTON
EAST NORTHPORT
EAST SETAUKET
GREENLAWN
HUNTINGTON
KINGS PARK
MANORVILLE
MELVILLE
MILLER PLACE
MT. SINAI
NESCONSET
NORTHPORT
PORT JEFFERSON
SAG HARBOR
SAGAPONACK
SAYVILLE
SHOREHAM
SMITHTOWN
SOUTHAMPTON
STONY BROOK
ST. JAMES
WADING RIVER
WAINSCOTT
WATER MILL
WEST ISLIP
WEST SAYVILLE
WESTHAMPTON
LUXURY LIVING MAGAZINE EXPANDS FROM PRINT TO DIGITAL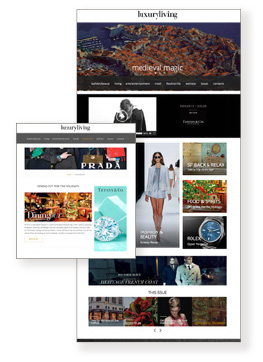 DEDICATED LUXURY HUB OFFERS IMMEDIACY IN REACHING AFFLUENT LONG ISLANDERS
CUSTOM CONTENT/NATIVE ADVERTISING
Native advertising represents an increasingly popular and effective means of promotion for marketers. Also known as custom content, partner content, or branded journalism, native advertising helps marketers tell their stories in ever more engaging ways that generate response. Brand360, Newsday Media Group's custom content studio, helps clients market their content to qualified audiences with formats that are immediately actionable.
Brand marketers - particularly those for luxury brands - find native advertising and the associated level of engagement important to their marketing goals: to differentiate themselves from other advertisers. offer something new to the consumer that positions their brand positively, and to create a better user, and hence, better brand experience.  In addition, bespoke content offers luxury marketers the same level of personalized service, exclusivity and ownership that their clients have come to expect from their brands.
LUXURY LIVES ONLINE
In addition to the glossy print publication, Luxury Living may be found online in a dedicated luxury hub. LuxuryLivingMagazine.net offers consumers and advertisers a showcase of select content from each issue, additional custom created content, photo galleries, shopping guides, video productions and more.
LUXURY BUYERS DEMAND A MORE IMMERSIVE AD EXPERIENCE
Advertising in our new luxury channel goes beyond banners and cubes with mobile-friendly, responsive HTML 5 custom ad units. This state-of-the-art format runs border to border in two locations on the premium home page. Additional native advertising may run in dedicated placements.
Larger, more immersive ad units appear in section fronts, article pages and as interstitials
Consumers can now touch brands through a variety of rich media within the units
Advertisers on LuxuryLivingMagazine.net also benefit from a robust social media campaign to stimulate engagement and increase viewability.
DIRECT ACCESS TO YOUR BEST CUSTOMERS
DATA
Using the Newsday Media Group's data management platform, advertisers are now able to drive their branding messages to the right audience at the right time. Our customized information services offer an altogether new level of reaching prospects via geographic, demographic and psychographic data targeting.
ADDRESS SPECIFIC DELIVERY
Luxury Living can also deliver participating advertiser inserts or catalogs direct to these high-end customers as a ride along with each issue, saving on postage and list rental costs.
EVENTS
Luxury Living hosts a variety of advertiser and charitable events on Long Island throughout the year. Sponsorships, including signage and product display/sampling, are available to select partners.
SAMPLING OF ADVERTISERS
(FROM ISSUES: NOVEMBER 2015, MARCH 2016, JUNE 2016)
AMERICANA MANHASSET
A WORLD OF PINK
BARBATSULY FURS
BETHPAGE FEDERAL CREDIT UNION
BLOOMINGDALE'S
BLUE SALON AND SPA
BLUM'S
BOHLSEN RESTAURANT GROUP
CALIFORNIA CLOSETS CANCOS TILE
CARLTUN ON THE PARK
CHARLOTTE RHEE, MD
COACH REALTORS
COMPETITION INFINITI
COUNTRY CARPET
DANIEL GALE AGENCY
DAVID DESSO JEWELERS
DESIGNER EXCHANGE
DEVOTION JEWELERS
DODDS & EDER HOME
DUTCHESS COUNTY TOURISM, INC
ECOLIN JEWELERS
EL CONQUISTADOR RESORT
ELEMENTS LIGHTING
ETHAN ALLEN
FERGUSON/DAVIS & WARSHOW
FIRE ISLAND FERRIES
FORD OF SMITHTOWN
FOREVER DIAMONDS
FORTUNOFF JEWELRY
GARDEN CITY HOTEL
G FRIED CARPET
GL HOMES
GREEN ART PLUMBING SUPPLY
GREEN RIVER GALLERY
HABBERSTAD BMW
JAGUAR OF GREAT NECK
L & R FIREPLACE
LAKEVILLE INDUSTRIES
LIBUTTI JEWELERS
LOCUST VALLEY CHAMBER OF COMMERCE
LONDON JEWELERS
LONG ISLAND EYE SURGICAL
LORD & TAYLOR
MAJOR JEWELERS GROUP
MARTHA CLARA VINEYARDS
MAXIMUS SPA & SALON
MERCEDES BENZ OF HUNTINGTON
MITCHELL'S
MONTAUK RUG & CARPET
MORRIS WESTFRIED, MD
NASSAU PLASTIC SURGERY
NEIMAN MARCUS
NEW YORK AUTO GIANT
NORTH BAY CADILLAC
NORTH FORK CHOCOLATES
NORTH FORK TABLE
OLGA LUCIA PERMANENT COSMETICS
PAMELA LERNER ANTIQUES
RALLYE LEXUS
RAPHAEL VINEYARDS
RED DOOR SPAS
SARANT CADILLAC
STEVENS FORD
STONYBROOK VILLAGE CENTER
SUFFOLK PLASTIC SURGEONS
SVS JEWELERS
THE CRUSHED OLIVE
THE KNOX SCHOOL
TRAPANI ART & FRAME
WALT WHITMAN MALL
WOODBURY COUNTRY CLUB
ADVERTISING OPPORTUNITIES
2016 | SIZES AVAILABLE
Full Page
Two-Third Page
Half Page
One-Third Page
Quarter Page
PREMIUM AD POSITIONS
Back Cover
Inside Front & Back Covers
Page 3: (First Right Hand Page)
Opposite Table of Contents
Opposite Editor's Letter
Opposite Masthead
Gatefolds (Front or Back, 3 panels)
MARCH—HOME DESIGN ISSUE
PUBLICATION DATE: MARCH 13, 2016
Reservation Close: February 5, 2016
Ad Materials Due: February 10, 2016
JUNE—SUMMER ISSUE
PUBLICATION DATE: JUNE 19, 2016
Reservation Close: May 23, 2016
Ad Materials Due: May 25, 2016
SEPTEMBER—FALL ISSUE
PUBLICATION DATE: SEPTEMBER 11, 2016
Reservation Close: August 5, 2016
Ad Materials Due: August 10, 2016
NOVEMBER—HOLIDAY ISSUE
PUBLICATION DATE: NOVEMBER 20, 2016
Reservation Close: October 28, 2016
Ad Materials Due: November 1, 2016
ALL IMAGES SHOULD BE A MINIMUM OF 300 DPI AND IN CMYK COLOR MODE
ADS CREATED IN MICROSOFT WORD, MICROSOFT PUBLISHER, MICROSOFT POWERPOINT OR ANY PC-BASED PROGRAM CANNOT BE ACCEPTED
WE WILL BE GLAD TO CREATE AN AD FOR YOU PROVIDED HIGH-RESOLUTION PHOTOS AND COPY ARE SUBMITTED IN TIMELY MANNER
ALL FILES SHOULD BE SENT AS HIGH RESOLUTION PDF FILES AND ELECTRONICALLY DELIVERED VIA NEWSDAY'S ADDESK AD DELIVERY SYSTEM
(http://addesk.newsday.com)
MAGAZINE TRIM SIZE:
8.375" X 10.5"
FOR BLEED ALLOW .125" BEYOND ALL TRIM
KEEP LIVE MATTER .5" FROM ALL TRIM
MAGAZINE FORMAT IS PERFECT BOUND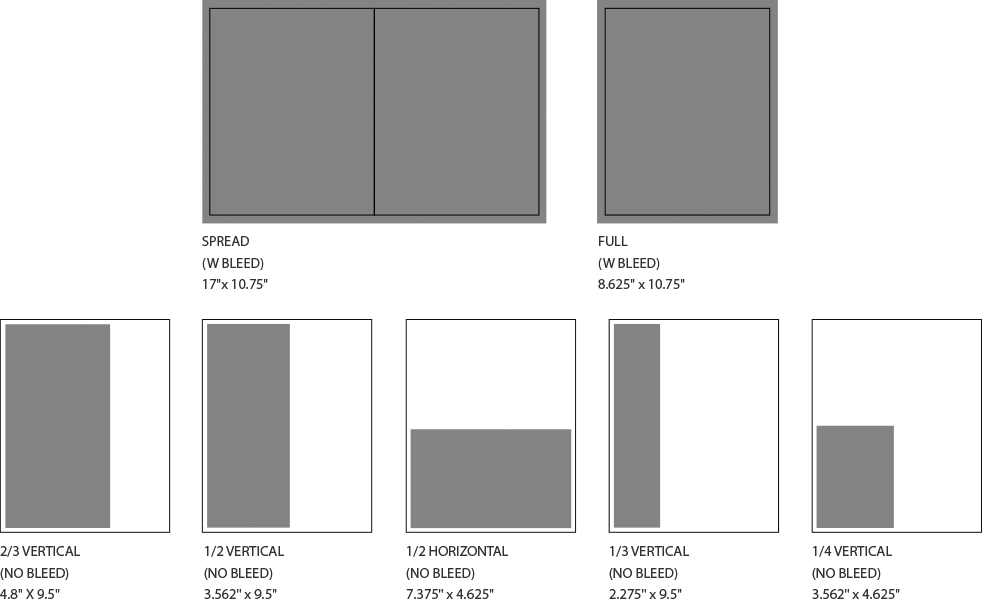 FOR MORE INFORMATION ON LUXURY LIVING,
PLEASE CONTACT YOUR NEWSDAY MEDIA GROUP SALES REPRESENTATIVE.
CALL 631-843-2723 OR EMAIL ADVERTISING@NEWSDAY.COM